Do you ever stop mid-run and just think, "wow I've covered some ground"? Maybe it's at the 1 km mark or at 25 km - it's all perspective. That moment of realizing you've got momentum and you're actually on the run you once just thought about doing - that moment is beautiful. It's a small celebration of achieving something (big or small), a moment of realizing your dedication and accomplishment in itself for appreciating where you currently are. That's what this blog is for us as HOLOS. We've been focused on the long run and where we're going, now is our moment to celebrate where we are.
First things first, how we got here.
We sincerely couldn't be where we are today without our incredibly supportive customers that not only enjoy our overnight organic muesli but also believe in us and embrace our ethos. Leading the charge on all the changes you see and milestones we feel is our internal team of dedicated, growth-oriented and fun-loving humans. We've been growing, adapting, and practicing flexibility to reach for the stars over the last year and good news - we've snagged some stars! Beyond our full-time crew, we have reliable contractors that support us in big tasks or specialties outside of our expertise. United by our intentions to pursue convenient mindful nutrition all of our various levels of support have brought us here - today. Today is really just another day - not an anniversary or anything special - just a good day to feel thankful for where we are and say thank you to everyone that has been a part of the journey.
In the last calendar year, we've focused on connection through partnerships - 42 to be exact, collaborations - 12 so far, and through better and more open lines of communication by upping our customer email communications and responsive engagement on social media. In a physical sense, we've also grown. We're now in over 350 retail locations, officially on amazon.ca and only a few weeks away from officially growing our flavour family.
Mindfully navigating our business achievements and goals with a sustainable balanced approach to life has undoubtedly been a learning experience - so goes the course for startups they say! As a whole, we've grown our team in size, quality and connected in unity. Below are some of our major milestones we're proud of as we take this time to reflect and honour where we came from - a breather from looking forward. We hope you'll feel the urge to do the same - to celebrate you and where you're at today - this very fine random day - perfect for feeling fulfilled in your accomplishments.
Mindful HOLOS Milestones
G7 selection: As part of the 2018 G7 Canada Summit, HOLOS was selected as one of 12 companies to showcase our innovation (our "Super-Breakfast") to media from around the world at the International Media Center. - June 2018
Official online launch across Canada - January 2019.
Les Dragons debut! - May 2020
Our first #RunforNOAH charity event - June 2020
Supported Jeff Cauchon's attempt at breaking a world record "E17EVATE" - August 2020
Release our first short Docu-film CAUCHON "answers from the woods" - November 2020
New 100% recyclable (#2) packing - January 2021
Retail launch - January 2021
Our new packaging won a Dieline award - May 2021
Featured on the cover of Canadian Packaging Magazine - June 2021
Tackled educational series The War on Carbs - June 2021
Supported another #RunforNOAH charity event - June 2021
Celebrated 300 HOLOS retail locations - June 2021
Reached 1 million HOLOS sold - July 2021
Launched Humans of HOLOS series - July 2021
Started the 2021 retail roadshow tour - July 2021
Supported Olympic athletes for the first time in the 2021 Olympic Games - July 2021
Officially on Amazon.ca - August 2021
New flavour drop! - October 2021
Reflection is a beautiful thing. Thanks for partaking in ours and for the ability to have so many celebration-worthy milestones doting our timeline so far. Turning our stride forward again we can't wait to continue to keep the pace, share the journey and fuel you to your fullest potential.
Teaser alert! We'll be doing some things with cameras, new regions and new tastes in the next few months - stay tuned on @liveholos.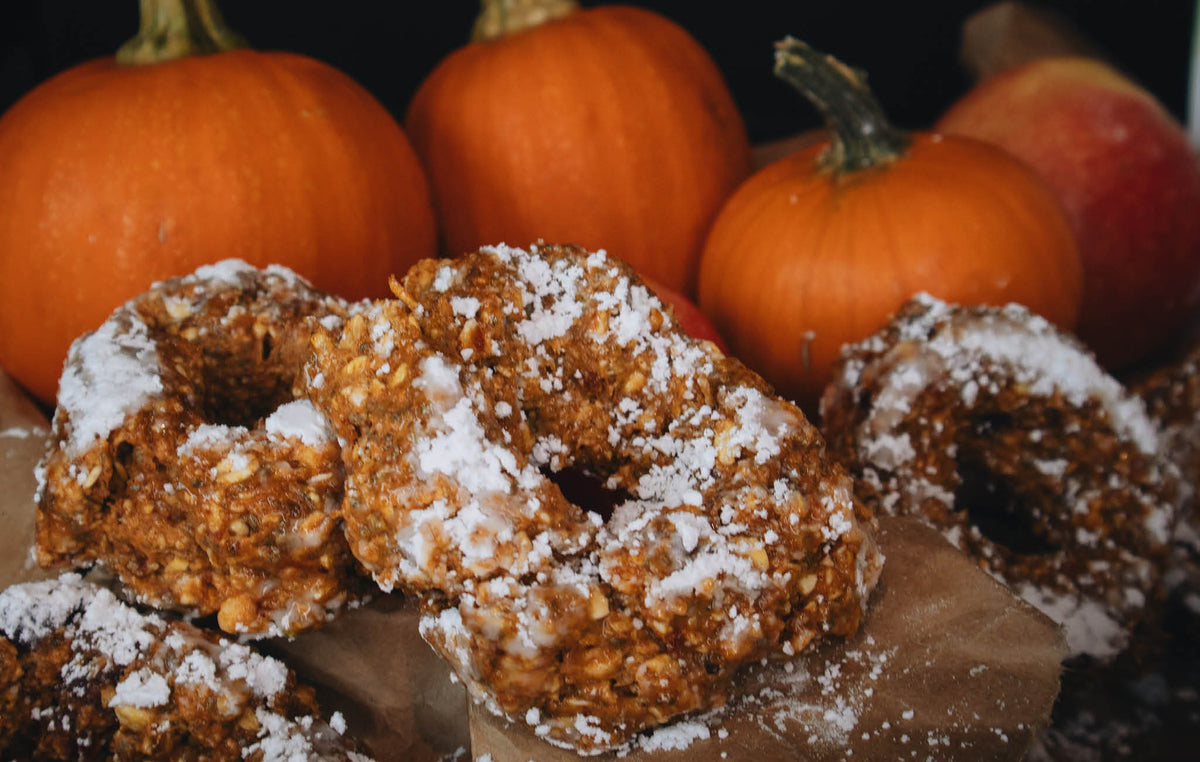 Pumpkin Spice No-Bake Protein Donuts Recipe
In honour of National Pumpkin Spice Day, we're celebrating with a delicious and cozy recipe featuring our beloved Apple + Cinnamon overnight muesli! These no-bake donuts are not only an explosion o...
Read more
All articles