First day Autumn is finally here and that means: Time to get bakin'! Teri, our fabulous recipe developer, is bringing you an easy and delicious way of turning our new Caramel + Raisins muesli into pastry rolls!

This easy and delicious recipe can also be made entirely vegan! Simply swap regular butter and milk for a dairy free alternative. Look at how amazing they turned out!
HOLOS CARAMEL & RAISINS ROLLS

YEAST
1/2 cup water of choice warmed to 110degrees
2 tsp dry active yeast
1 tsp coconut sugar

DOUGH
1/3 cup coconut oil melted and cooled to room temperature
1/2 cup milk room temperature
1/2 cup coconut sugar
1 package HOLOS CARAMEL + RAISINS, ground into flour
2 1/4 cup AP flour, more to roll
3/4 tsp salt

FILLING
1/4 cup butter room temperature
1/4 cup coconut sugar
1/4 cup raisins
METHOD
Place water in a large glass measuring cup and microwave for 30-60 seconds to bring to 110 degrees.
Add sugar and stir until it dissolves. Sprinkle dry active yeast on top and whisk to combine. Leave on the counter for 10 minutes until it becomes frothy and foamy.
Whisk dry ingredients into a bowl of a standing mixer with paddle attachment. Add in liquids. Turn on the mixer slowly to start, increase speed to medium until dough is thoroughly combined. Scrape down the sides as needed. Replace with dough hook attachment, turn on to medium and allow the dough to work for 3 minutes. (This can be done without the standing mixer, you will need to knead the dough by hand for 3-5 minutes). The dough should start to pull away from the bowl.
Lightly grease a large bowl with cookie spray or coconut oil. Transfer the dough ball into the bowl, wrap with plastic wrap and cover with a kitchen towel. Place in a warm spot in your kitchen to rise. The dough should double in size in about 1 hour.
Grease a 9x11 baking dish. Lightly dust the counter with flour. Roll out dough to approximately 14"x20". Brush the dough with butter and sprinkle in raisins and sugar. Roll up the dough tightly and then cut into 10 pieces. Gently place rolls into the greased dish, spacing them apart. Cover again with plastic wrap and place in a warm spot to rise for approximately 1 hour.
Preheat the oven to 350 degrees. Once rolls have risen, place into the oven and bake for 25-30 minutes. Let the rolls rest for 10 minutes.
*Grind HOLOS using a small blender. You are looking for the consistency of flour. You can do this in advance and place it in a sealed jar for future use.
CARAMEL & RAISINS SAUCE
3/4 cup coconut sugar
1/2 cup milk
1/2 cup raisins
2 tbsp butter
1 vanilla bean
1/4 tsp salt
Place everything into a small heavy bottomed pot. Bring mixture to a boil, reduce heat to medium-low and cook until slightly thickened. Once cool, the sauce will thicken more. Pour over rolls and enjoy immediately!
*The Caramel Sauce can be made in advance and placed in the fridge. The sauce will thicken! If you want a runnier consistency, reheat in the microwave or stove top.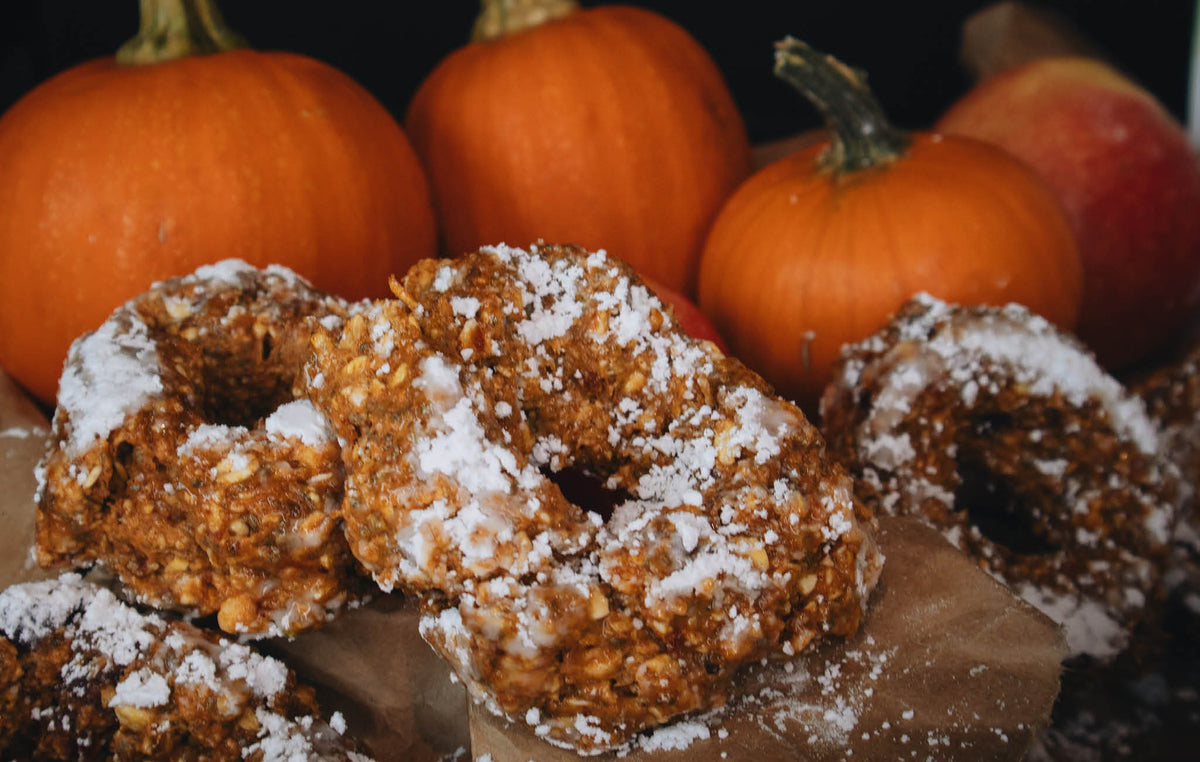 Pumpkin Spice No-Bake Protein Donuts Recipe
In honour of National Pumpkin Spice Day, we're celebrating with a delicious and cozy recipe featuring our beloved Apple + Cinnamon overnight muesli! These no-bake donuts are not only an explosion o...
Read more
All articles