Any excuse to eat chocolate for breakfast or breakfast for dessert - count us in! We partnered with our favourite chocolate oak milk brand, Earth's Own for this decadent Valentine's Day recipe created by Teri-Ann Carty. An easy HOLOS creation that deliveries the nutrition your body and mind crave in a chocolatey Valentine's Day inspired disguise!
Keep it simple by jazzing up your HOLOS routine with the first set of instructions - a little effort can completely transform your known muesli experience! Feeling fancy or ready to impress this Valentine's? Take on the second set of instructions to add HOLOS inspired Truffles to your already jazzy HOLOS - you won't be disappointed. 🤤
VALENTINE'S CHOCOLATE STRAWBERRY HOLOS + EARTH'S OWN.
INGREDIENTS: yields 2 HOLOS jars
2 packs Cacao HOLOS
10 strawberries
METHOD
Slice your 6-8 strawberries. Equally, divide strawberries in the bottom of your glass jars.
Before bed, pour your pack of HOLOS into a bowl. Add 1 cup of Earth's Own Chocolate Oat Milk and whisk vigorously. Pour mixture over strawberries and seal with lid. Repeat for a second serving.
Refrigerate until morning.
When you are ready to eat, add remaining strawberries and optional truffles - recipe below.
VALENTINE'S DAY VANILLA HOLOS TRUFFLES.
INGREDIENTS: yields 18 truffles
¼ cup Vanilla HOLOS
1 cup runny nut butter or seed butter
8 dates
1 tsp vanilla
¼ tsp sea salt
100 grams chopped dark chocolate
*½ cup chopped peanuts
*¼ cup rose petals
*sea salt for topping
METHOD
Soak your dates in very hot water. Set aside for 15 minutes to soften.
Drain the dates and remove pits. Place in a blender or food processor and blend until you create a paste. Add water as needed.
Grind a package of HOLOS vanilla into a sand-like texture using a spice grinder, food processor or blender.
In a medium-sized bowl place nut or seed butter, date paste, ¼ cup of ground Vanilla HOLOS and sea salt. Roll into 1 inch balls and place in the refrigerator.
In a microwaveable bowl place chopped chocolate. Microwave for 30-second increments (stirring in between) until fully melted.
Place a ball on a fork and dip into chocolate. Use a spoon to coat chocolate over truffles.
*sprinkle ½ with peanuts and ½ with rose petals. Sprinkle with sea salt if using.
Place atop your Chocolate Strawberry HOLOS muesli and enjoy!
*Optional
I might need some HOLOS for this...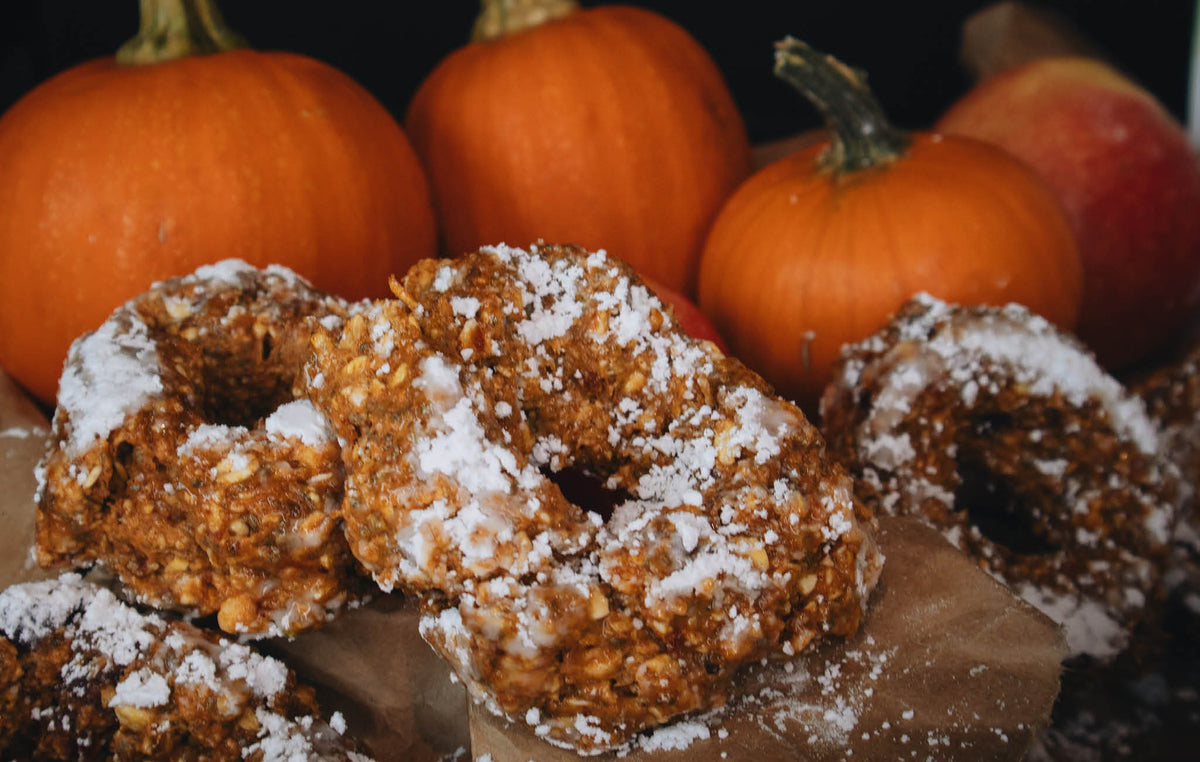 Pumpkin Spice No-Bake Protein Donuts Recipe
In honour of National Pumpkin Spice Day, we're celebrating with a delicious and cozy recipe featuring our beloved Apple + Cinnamon overnight muesli! These no-bake donuts are not only an explosion o...
Read more
All articles