The most coveted treat of summer just got tastier than forecasted. Thanks to food guru Crystal Cervants, we were able to transform our overnight muesli into an ice cream cone that pairs perfectly with Righteous delicious dairy-free gelatos and sorbets. You are not dreaming, we said we made ice cream cones from HOLOS muesli and filled it with cold vegan goodness.
It's easy to think that creating a cone requires hours of prep time and thought. Well, don't think twice because we know time isn't something that's in abundance in summer - this recipe is quick and tasty just like our traditional HOLOS. This recipe is a real discovery, one that changes the way you gather with friends and family, leaving you more time for them because that's what's most important after all. It's a literal treat to create these tasty ice cream cones made from Vanilla HOLOS and then fill them with delicious Righteous Gelato - enjoy making and eating them with the ones you love!
HOLOS VANILLA ICE CREAM CONES
Prep time: 30 minutes
Portion size: 4-5 cones per recipe
INGREDIENTS:
1 HOLOS Vanilla
2 eggs, the whites only or your favourite egg white vegan alternative
1/2 cup of white sugar
3 teaspoons of almond or oat milk
1/2 teaspoon pure vanilla extract
pinch of salt
2 tablespoons butter, melted
INSTRUCTIONS:
To prepare the batter:
Blend one pouch of HOLOS vanilla in a food processor until it's in a smooth powder of HOLOS flour (1 HOLOS makes 2/3 cup of flour).
Use a sifter or strainer and place the HOLOS flour in and strain it into another bowl. This will create a more seamless cone texture. For a bowl shape cone, you can pour mixture in as is.
Add the two egg whites, sugar, milk of choice, vanilla, and salt to a mixing bowl and whisk together. Stir in the HOLOS flour and butter until fully incorporated, and the batter is smooth. Let sit for two to three minutes to thicken.
To prepare the cone:
Place a nonstick skillet cast iron pan, ideally measuring 6 inches x 6 inches, or a frying pan, on low heat.
Once the skillet is hot, pour 1/4 cup of batter into the warm skillet and spread into a thin, even layer. Move the skillet in circles fast to get a crepe with a nice round shape.
Turn to medium heat and cook for 4 to 5 more minutes or until the base has set. Flip and continue to cook for 3 to 4 minutes.
Lift the crepe of cooked batter off the griddle and QUICKLY and carefully roll from the bottom to shape it (Be cautious: the crepe will be hot). Pull out the shape at the top to make it a wider cone.

Tip #1: Lay the crepe onto a clean towel and roll into a cone shape, and hold, seam side down for 1 to 2 minutes or until the cone cools and hardens. This step must be done quickly as the crepe will begin to set almost immediately after leaving the skillet. You can also lay the cooked batter on top of a bowl to create a bowl shape for your cone.

Tip #2: Focus on rolling the bottom of the cone first, making it easier to shape the rest of the cone. Take care not to roll it too tight as you'll need a good-sized opening for the cone.


Repeat steps 1 to 4 to prepare the other cones.
Optional: Dip the cones, once at room temperature, in chocolate and cover in nuts or sprinkles. Set the cones on parchment until the chocolate hardens.

Assemble your creation:
You're almost ready to eat your delicious cone: wait 5-10 min for the cones to cool. Once it feels hard you're ready to scoop your ice cream into the cone! Add ice cream, toppers and devour this tasty treat! We recommend trying Righteous Gelato Dairy Free Strawberry Rhubarb with this HOLOS Vanilla ice cream cone.
Try this recipe with the other flavours of HOLOS and mix up the gelatos. Suggested pairings of HOLOS x Righteous Gelato:
Righteous Gelato Dairy Free Raspberry Lime with a cone made from HOLOS Maple + Almonds.
Righteous Gelato Dairy Free Mango Pineapple with a cone made from HOLOS Vanilla.
A cone bowl with HOLOS Chai and filled with a mixture of different Righteous Gelato flavours - perfect for the indecisive!
BONUS: Try Righteous Gelato Dairy-Free Toasted Coconut in a cone made with HOLOS Cocoa and for an extra dose of HOLOS, topped your cone with prepared HOLOS Cocoa.
These cones are best eaten the day they are made. If you have any leftovers, carefully store them in an airtight container and place them in the freezer for the next time you're ready to eat them.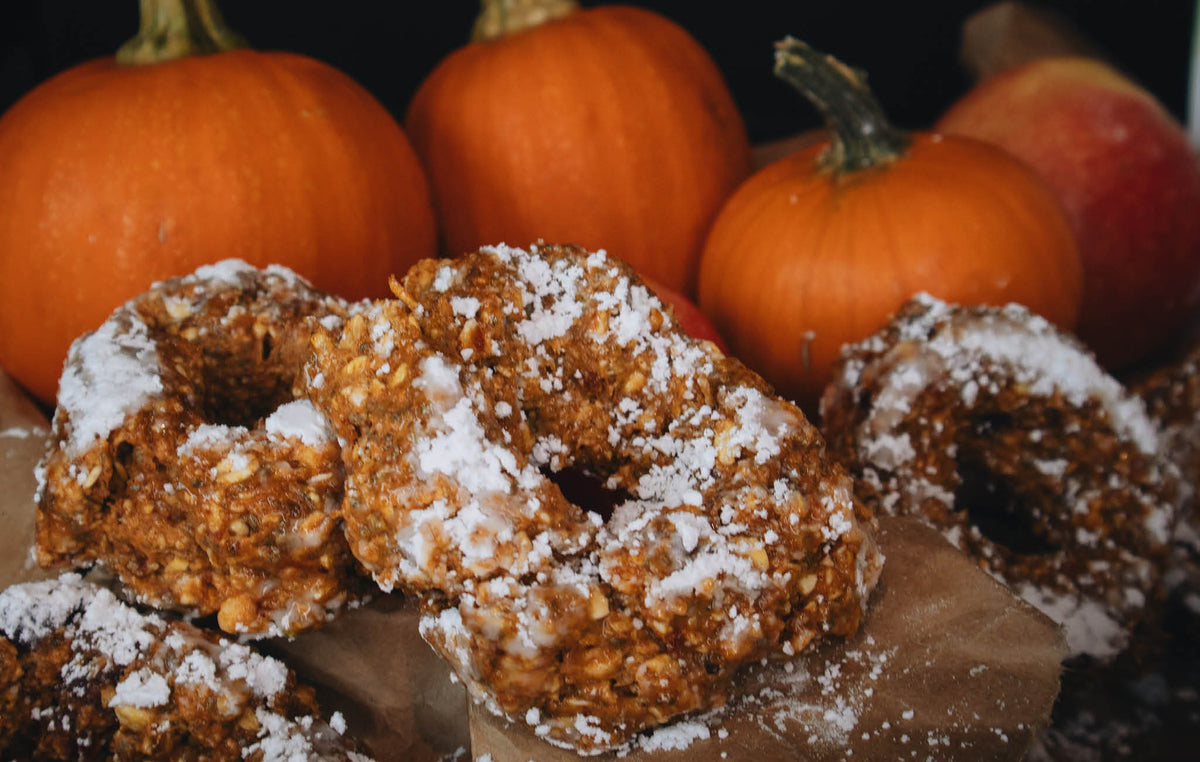 Pumpkin Spice No-Bake Protein Donuts Recipe
In honour of National Pumpkin Spice Day, we're celebrating with a delicious and cozy recipe featuring our beloved Apple + Cinnamon overnight muesli! These no-bake donuts are not only an explosion o...
Read more
All articles