It is the Holidays so Teri, our fabulous recipe developer, decided to ramp up the holiday season with this DELICIOUS and EASY Marbled Banana Bread using HOLOS VANILLA MUESLI. Yes, you heard that correctly! Using HOLOS in your recipes is super easy and makes them extra nutritious. Don't worry, your family won't know.
Have you ever wanted to make a marble bread before but worried it was too difficult? Let us assure you, it is the farthest thing from the truth. All you need is an ice cream scoop or 2 spoons. The effect comes from layering the batter randomly offsetting chocolate and vanilla. The result will impress your family and friends and they will devour it with great joy!
The icing for this cake is completely optional but because it is the Holidays we figured why not? This Chocolate Cream Cheese frosting is a dream and takes no time to prepare. The icing will firm up as it sets so sprinkle the peanuts (or nut of choice) as soon as it is frosted.
INGREDIENTS
2 pkg HOLOS vanilla muesli
1 cup all purpose flour
1 tsp baking powder
1/2 tsp baking soda
1/2 tsp cinnamon
3/4 tsp salt
1/2 cup granulated sugar
1/2 cup coconut or brown sugar
1/2 cup butter room temperature
2 large eggs or vegan flax alternative
2 large bananas mashed (1 cup)
1/2 cup yogurt
1 tsp vanilla extract
1/2 cup 70% dark chocolate chopped and melted
1 tbsp cacao powder
FROSTING
1/2 cup melted and cooled dark chocolate
100 grams cream cheese
1 cup powdered sugar
3 tbsp crushed peanuts
METHOD
Preheat oven to 350 degrees and grease the inside of a standard loaf pan.
Place vanilla muesli into a small food processor or blender and pulse or blend into a fine "flour" and set aside.
Whisk together all dry ingredients in a medium sized bowl.
In the bowl of a standing mixer (You can do this by hand or an electric mixer) add sugars and butter. Beat until light and fluffy. Add eggs one at a time. Beat again until well combined. Add in banana, yogurt and vanilla extract. Beat until incorporated.
Add dry to wet and mix until no floury bits remain.
Melt chocolate in a small heat proof bowl. Add cacao powder to melted chocolate stirring until cacao is completely dissolved.
Split batter into 2 bowls. Fold chocolate into the one half.
Use an ice cream scoop to alternate batter into the pan. This can be very random. Have fun with it! Tap the loaf pan several time on the counter and smooth out the top with an offset spatula or knife. You want to ensure there are no air pockets in the batter.
Bake for 65-75 minutes or until a toothpick comes out mostly clean. A few crumbs are totally fine. Let the loaf rest for 10 minutes before turning it out onto a wire rack to cool completely before frosting.
Add frosting ingredients (not the peanuts) into a stand mixer or electric mixer and beat until light and fluffy. Once loaf has cooled completely, frost the top of the loaf. Sprinkle with peanuts immediately. Add powdered sugar if desired.
NOTES
This loaf can be made completely vegan and gluten-free. Use gluten-free all purpose to replace the flour. 2 flax eggs instead of regular eggs. Plant-based butter instead of real butter. Plant-based yogurt instead.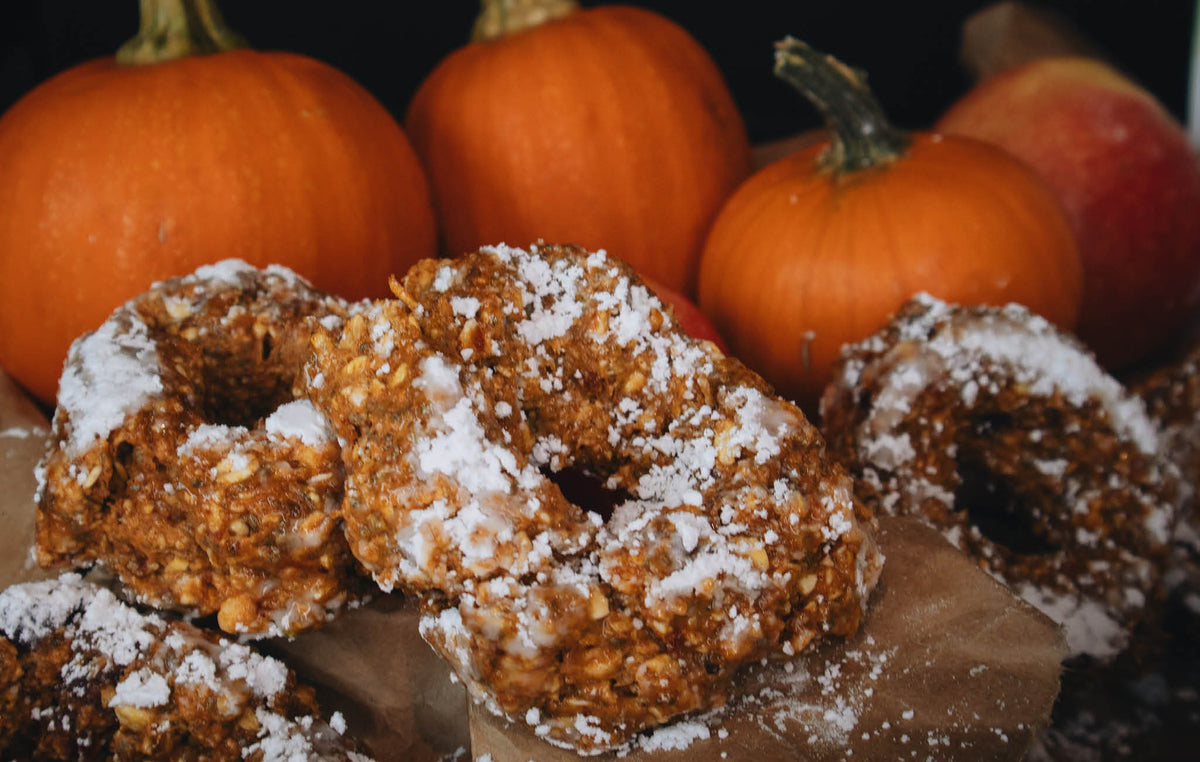 Pumpkin Spice No-Bake Protein Donuts Recipe
In honour of National Pumpkin Spice Day, we're celebrating with a delicious and cozy recipe featuring our beloved Apple + Cinnamon overnight muesli! These no-bake donuts are not only an explosion o...
Read more
All articles