You do the things. We'll fuel you to do them. Whatever they are.
At HOLOS we believe that your food should adapt to your active lifestyle, not the other way around. Our portable jars were designed to be packed, placed, balanced, grabbed and stashed. While your environment is ever-changing, our unique recipe is the reliable fuel you can depend on for all of life's adventures, big or small.
HOLOS to go is a series that will share stories of places, faces and activities fuelled by our overnight organic muesli. Have a story? Do tell: contact@liveholos.com
THE WHY BEHIND "HOLOS TO GO"
We are an active community of adventure-seekers, movers and shakers, and busybodies that know that in order to keep up with all of the amazing things we want to accomplish, we need more than just healthy meals made at home. We need a quick, practical and nutritious food staple, to go on adventures with us. This series is a way for us to showcase our community and be inspired by the HOLOS family and everything we can accomplish, given the proper fuel.
Learn the whole HOLOS story here, join our community on Facebook or Instagram and subscribe to our newsletter, to follow the series.
OUR MOTIVATION: CHANGING THE MEANING OF FAST FOOD
The role that fast food plays in our society is changing. We are starting to understand that what we choose to consume as fuel can either help us or hinder our success. We're not just talking about fuel for epic adventures, we're talking about fuel for getting out the door to hit the gym or to sustain us through one more last-minute meeting, or to eat hastily on the commute to work. At HOLOS, we believe that an abundant life needs more than just healthy food options: it needs convenience. Food that you can take to go with you that's well rounded, wholesome, plant-based, loaded with nutrients and designed to keep you achieving.
Derived from the Ancient Greek word holo ὅλος, meaning "whole" - HOLOS is about making a daily commitment to your overall health and wellbeing, living an abundant life, and seizing the day. HOLOS contains 20 grams of plant-based protein, 12 g of fiber, 13 vitamins and minerals and 2 grams of Omega 3 fatty acids, making it great for energy production. Because HOLOS comes in a handy portable jar and can be made in under 2 minutes, it's leading the evolution of fast food.
Not hungry enough to gobble down a HOLOS in one sitting? Don't worry, you can eat HOLOS in batches over a two-day period as a perfect snack. Want to try something new? HOLOS can be prepared in cookies, bars, waffles, and so much more - recipes here. It's a formulation of the right kind of whole-food ingredients and nutrition so that you can keep seeking, making, embracing and seizing the day without compromises or interruption.
HOLOS seeks adventure, just like you.
On your hikes. On your bike rides. Kayaking. Training. Back to back activities. Volunteering.
Where will your HOLOS take you? Show us.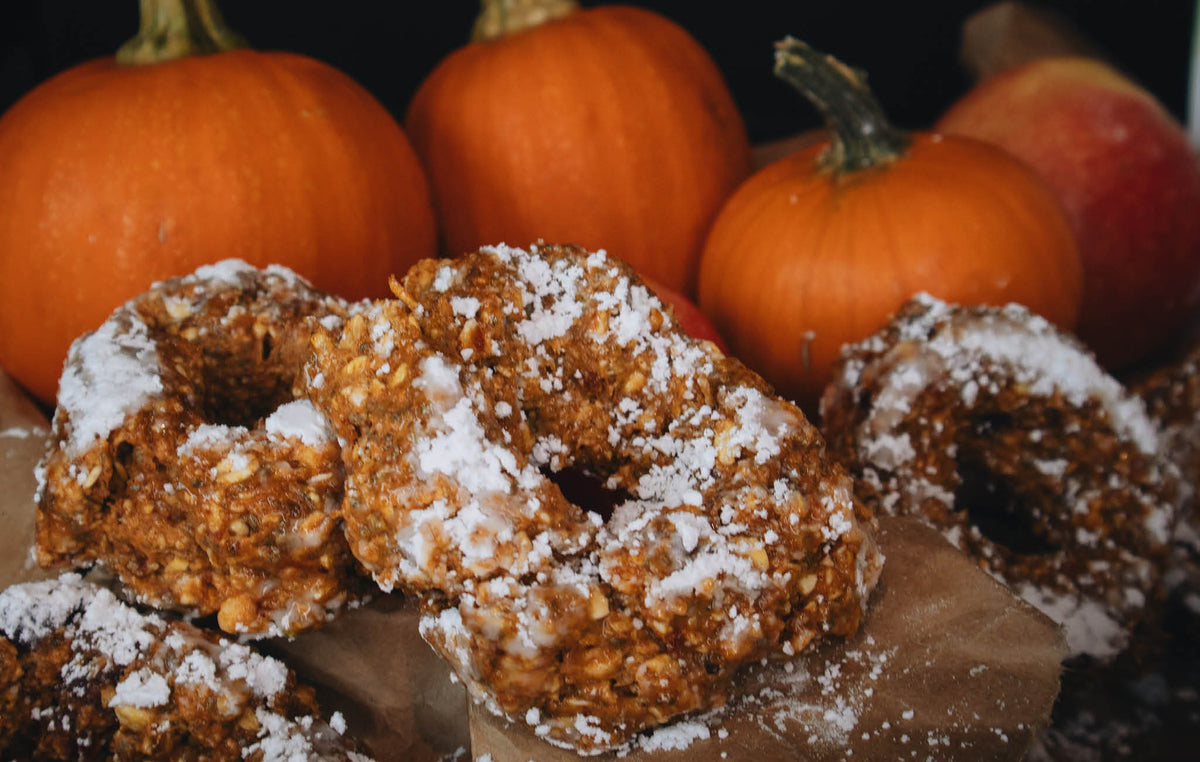 Pumpkin Spice No-Bake Protein Donuts Recipe
In honour of National Pumpkin Spice Day, we're celebrating with a delicious and cozy recipe featuring our beloved Apple + Cinnamon overnight muesli! These no-bake donuts are not only an explosion o...
Read more
All articles