For Lael Wilcox, riding a bike is as instinctive as breathing, and a great excuse to stuff herself with calorically-dense foods. She began her cycling journey commuting in her 20s from her hometown of Anchorage, Alaska to Tacoma, Washington, but within a year she was already crisscrossing the world on bikepacking adventures. After a biking tour that covered 30 countries around the world, this ultra biking natural decided to take on her next challenge: racing long-distance self-supported events
In 2015, Wilcox popped onto the scene by crushing her first attempt at the Tour Divide, a self-supported 2,745-mile event that stretches from Banff, Alberta, all the way south to the USA/Mexico border. She began her first win by challenging herself: she biked from her hometown of Anchorage to the race's start in Banff, covering over 2,000 miles before the race began. Even while battling a nasty respiratory infection that caused her to stop en route for a doctor's appointment in Montana, she was able to push through to finish in sixth place to set a new women's record, one that she beat only two weeks later on her second attempt at the course.
Since then, Wilcox has found herself demolishing more races and earning accolades around the world, including scouting the course and setting the record time (twice!) on the Baja Divide Route and becoming the first American to win the Trans Am Bike Race in 2016, beating both men and women. Wilcox then embraced her love of mentorship by founding the GRIT (Girls Riding Into Tomorrow) program in Anchorage in 2017, a six-week course that helps middle-school girls to build up to a weekend-long adventure ride, after which they get to keep the bikes they are provided. More recently, she accomplished the fastest known time on the Arizona Trail in 2022, averaging 90 miles a day over tough, rocky terrain that includes a 21-mile hike through the Grand Canyon, where bikers must carry their bikes on their back for the duration as no bikes are allowed in the national park.
But how does this ultra racing star cover such long distances so quickly, all on her own? The secret lies in the large quantities of food that she consumes to fuel her endurance across these thousand-mile events and races, and today this racer shares her ultimate cycling nutrition secrets with us.
The Diet That Fuels Thousands of Miles
Ultra-Endurance cycling requires an ultra high-calorie diet to go along with it, and one thing that Wilcox knows how to do is chow down on calorically-dense foods, whether that's downing melted ice cream on an endurance race across Spain or enjoying a piece of pizza whenever she can find one on the trail. Adventure racing requires getting creative with your diet, as you can only carry so much with you, and Wilcox has gotten her endurance sports nutrition down to a science.
Today, we sit down with Wilcox to find out the best cycling foods that help sustain her endurance feats across thousands of miles of tough terrain.
What's your diet philosophy?
I love food–especially fresh food. My racing is self-supported ultra-endurance, so I'm often buying food from convenience stores–at best, bakeries. It's often not great, but you have to eat a lot. I'm good at that :)
For the first time ever, this year, I'm working with a coach and a nutritionist. It's been a lot of fun and I'm learning a lot. My nutritionist gives me weekly nutrition goals– often encouraging me to eat grains, seeds and fruit. HOLOS is a great and easy way for me to get some great nutrition in every day.
SPACER
How do you start your day to sustain yourself for so many miles on your bike?
For the past two weeks, I've been riding in Baja, California/Mexico. Now I'm in the Canary Islands and I've been eating HOLOS every morning to make sure I get some good grains & seeds for the day. HOLOS is my go-to breakfast when I'm riding around the world. I also drink coffee, usually espresso. But when I'm home in Tucson, Arizona I like to prepare almost all my own food. I make a lemon-tahini vinaigrette and have a big salad with eggs and grains for breakfast every day.
Do you have snacks/beverage in between breakfast and lunch? Especially if you go training?
I'm not a huge snacker, unless I'm spending all day riding. I love fruit that's in season. This winter, I've had persimmons, oranges and mandarins. Right now, we're in the Canary Islands and they have their own special bananas. Spain has the best fresh squeezed orange juice in the world.
What do you usually eat for lunch?
Today, I had avocado on bread and some potato chips on the side of the road. It rained all morning, cleared for about an hour and rained again :)
Do you have snacks/beverages in between lunch and dinner?
After a hard ride or hike, I usually have a vegan protein shake. I blend it up with their power greens, a banana and pineapple juice.
What do you eat for dinner and after dinner?
Today I had some seafood– cod, langoustines, potatoes and paella. After dinner, I like to eat oat milk ice cream, if I'm lucky enough to have some.
There's no doubt about it–Lael Wilcox is one of the most inspiring athletes we've ever come across, and we could not be more stoked to be a part of her journey. While many bikepackers eat just to fuel themselves, we love to see that Wilcox has a diet full of delicious foods that she enjoys consuming to help sustain herself throughout her races and adventures. We can't wait to see where Wilcox will go next, but there's one thing we know for sure: wherever she goes, she'll crush those miles like a champion.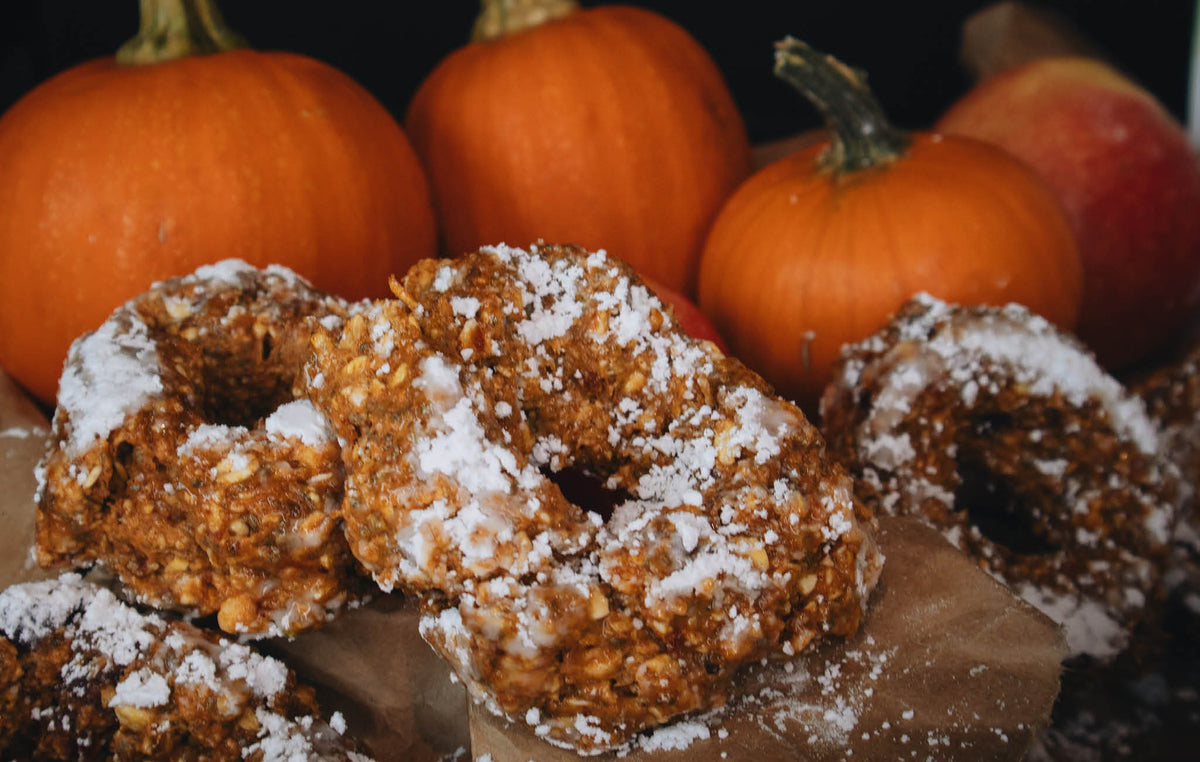 Pumpkin Spice No-Bake Protein Donuts Recipe
In honour of National Pumpkin Spice Day, we're celebrating with a delicious and cozy recipe featuring our beloved Apple + Cinnamon overnight muesli! These no-bake donuts are not only an explosion o...
Read more
All articles