It is sincerely an honour to support Marc-Antoine (MA) Forand on his annual Run for Noah. Each year has a different approach but the core remains the same, "to show to Noah everything is possible, there are no limits." Here's what that looks like this year.
What: Trail run 50 km in one shot each day for five days straight.
Why: To raise money and awareness for diversity of all kinds.
MA and Noah have a beautiful story and approach to life which is why we consider ourselves lucky to support them in this pursuit. It is a story that is uniquely theirs, read MA's beautifully written words to fully grasp the magnitude of this event.
FROM MARC-ANTOINE FORAND WITH LOVE
I do this to celebrate my son Noah's date of birth, my little warrior of the light.
The most valuable thing I want to teach him is to never set boundaries for himself.
Every time I go out for a long or a short run, it's always about pushing myself forward. It is not about the achievement, the effort is what it comes down to. I did not grow up in a very sporty family, but since my son's birth, I slowly started running and realizing the physical benefits, but even more so the mental benefits that the sport provided me. It was like for the first time, in a very long time that I could breathe fully. Running allows me to channel my energy and to calm my mind about the doubts and fears that I may have about my son's future. Running makes me smile and so, to have the opportunity to raise funds for Down's Syndrome through it fills me with joy!
This unexpected chromosome that slipped itself into our lives 4 years ago was not welcome in my newly found Daddy heart. It felt like my body was about to explode from all the sadness taking over. You're basically being told that your child may have or may develop heart, vision, hearing and/or a multitude of other health problems throughout his lifetime. Down's Syndrome was not detected during pregnancy and to be honest, at that very moment when we were told I was simply mad at the universe. Becoming a parent is huge, but to have a kid with a syndrome is an even bigger challenge. You ask yourself if he will ever have friends? Will he ever be autonomous? At first, we thought, how can they be? Today, I would like to hold in my arms the young father that I was 4 years ago to tell him that everything will be more than fine and that Noah will be the biggest source of happiness in his life.
Noah is my soulmate and I thank him every day for teaching me how to be open, but even more so, how to love every human being as they are. Despite our initial fears and broken hearts at the beginning of this adventure, my girlfriend and I always knew that our mission was to make him happy, one day at a time. There is still a lot to be done for a person with Down Syndrome or with a handicap to be and feel included, but if every step I take while running can help to push forward the way society looks at people with disabilities, then I call it mission accomplished.
Noah, I love you Petit Budha.
-Pop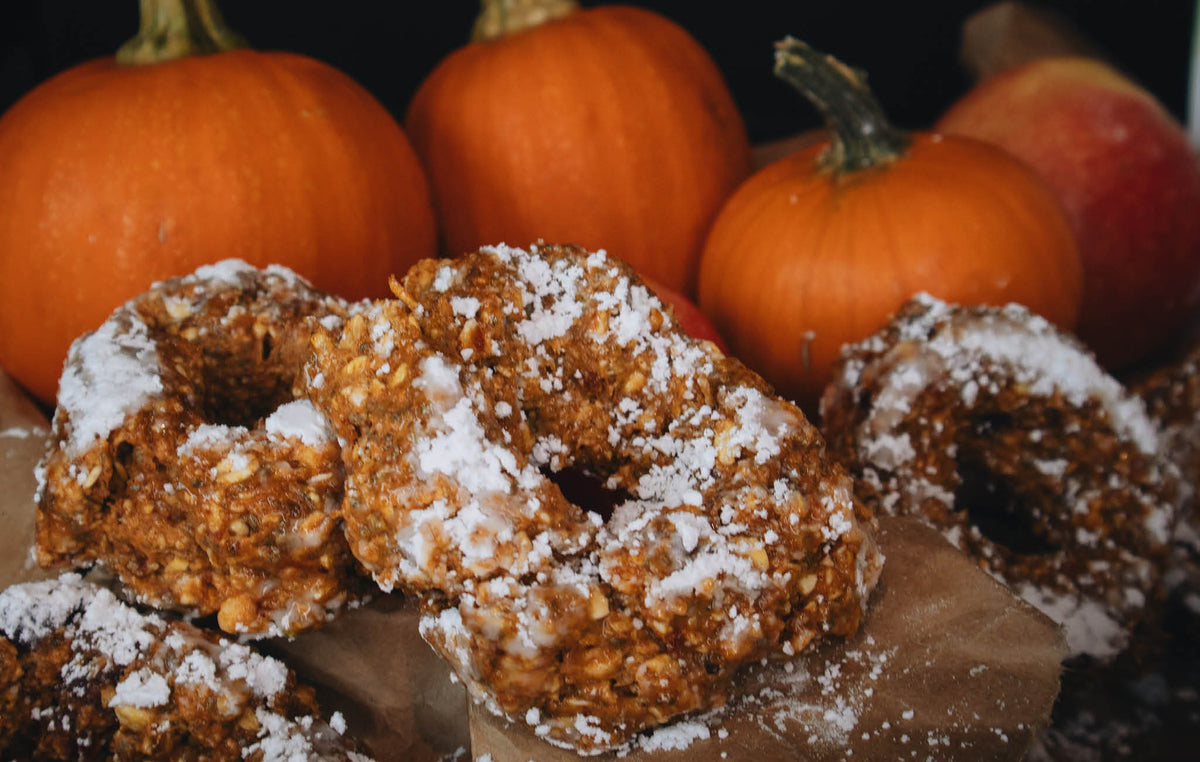 Pumpkin Spice No-Bake Protein Donuts Recipe
In honour of National Pumpkin Spice Day, we're celebrating with a delicious and cozy recipe featuring our beloved Apple + Cinnamon overnight muesli! These no-bake donuts are not only an explosion o...
Read more
All articles