This homemade treat uses HOLOS CACAO MUESLI in a creative and fun way to create these delightful vegan, gluten-free and refined sugar free ice-cream bars. Yes! You can turn your favourite muesli into a power snack GRANOLA to add to the bars but beware, it's addictive!
VEGAN ICE CREAM BARS
1 cup cashews soaked overnight.
1 can full fat coconut milk.
1/4 cup cashew butter.
2 tbsp maple syrup.
1 tsp vanilla.
Pinch of sea salt.
1/2 cup HOLOS CACAO GRANOLA.

COATING
100 grams chopped dark chocolate
1 tbsp coconut oil
1/2 cup HOLOS CACAO GRANOLA

CACAO GRANOLA
2 packets HOLOS CACAO muesli
1/8 cup peanut butter
1/8 cup coconut oil
1/8 cup maple syrup
1/2 tsp vanilla
1. Preheat the oven to 300 degrees. Add two packets of HOLOS CACAO muesli to a bowl. In a small pot, melt coconut oil, peanut butter, maple syrup and vanilla until thoroughly combined. Pour over muesli and stir to coat completely. Place on a baking sheet spreading into a thin layer. Place in the preheated oven and bake for 20 minutes. Shift the granola around gently and bake again for 10 more minutes. Allow for it to cool completely. Transfer to a container with a lid.
2. Drain cashews and add to a blender with cashew butter, maple syrup, coconut milk, vanilla and salt. Blend until smooth and creamy. Pour mixture into popsicle molds. Sprinkle granola over the popsicle mixture. Insert stick. Place molds on a baking sheet and put them in the freezer until fully set.
3. Melt chocolate and coconut oil together in the microwave. Allow for it to cool before dipping frozen pops. Sprinkle HOLOS granola onto chocolate coating quickly as the chocolate will harden fast.
4. Place back into the freezer until ready to eat!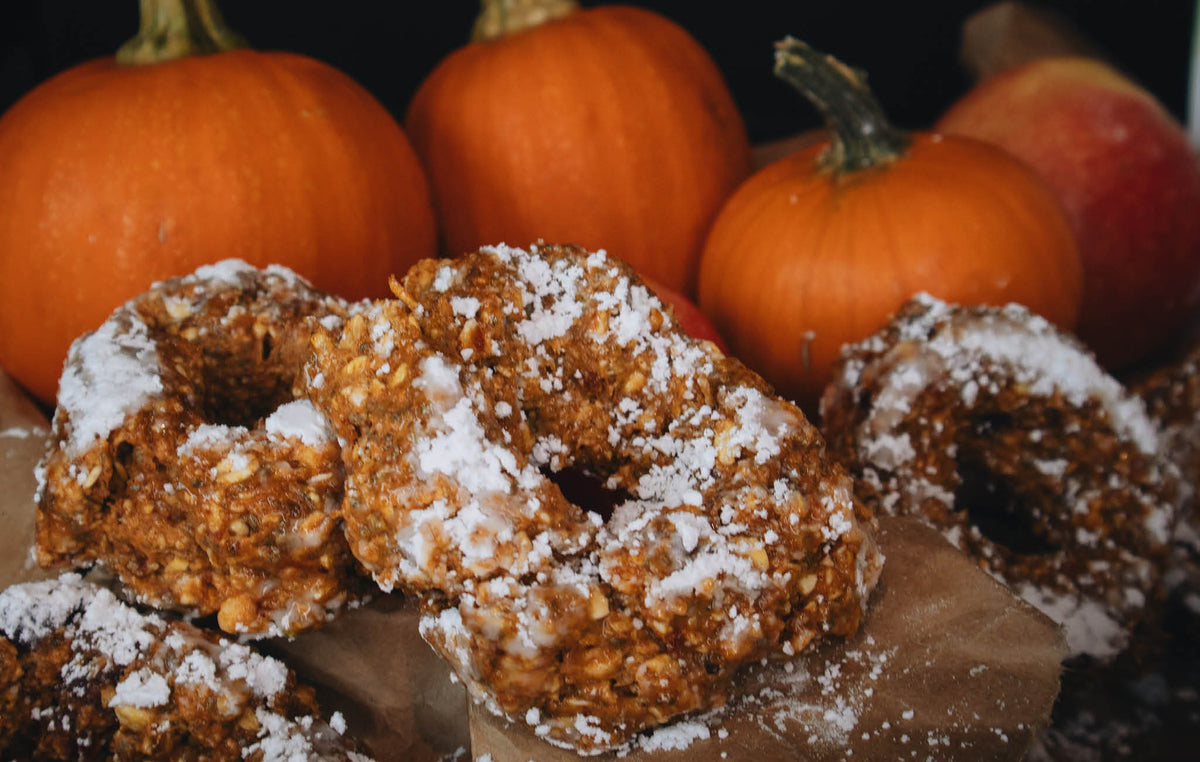 Pumpkin Spice No-Bake Protein Donuts Recipe
In honour of National Pumpkin Spice Day, we're celebrating with a delicious and cozy recipe featuring our beloved Apple + Cinnamon overnight muesli! These no-bake donuts are not only an explosion o...
Read more
All articles