Wondering if HOLOS is for you? It is! And we've compiled a list of just some of the reasons you're going to absolutely love it.
1. It provides the lasting energy needed to power through your busiest days
Finding the energy to hit the gym, go for a jog, or tackle an early meeting is no easy feat on an empty stomach. Your morning java doesn't supply you with the fuel needed to keep up with the demands of your busy day, and what you really need is the long-lasting energy that whole foods provide without the hassle of cooking a full breakfast. This is precisely the problem HOLOS was designed to solve.
HOLOS is made with organic rolled oats that contain complex carbs to fuel the brain, fermented protein powder to help with muscle building and repair, and Omega-3-rich chia seeds that provide anti-inflammatory and immune support. HOLOS breakfasts are also loaded with superfood ingredients like maca, goji berries, white mulberries and cocoa nibs to keep your energy levels high throughout the entire day.
"Eating HOLOS in the morning is a no brainer. It gives me the fuel I need for my morning run and I still have plenty of energy left afterwards to perform at work."
- Jeff, elite Canadian trail runner & engineer
2. You'll kick that mid-morning hunger for good
Quick breakfasts like sugary cereals or toast often feel necessary on busy mornings. But while these types of foods may be convenient, they offer only temporary fuel; fuel that burns quickly and leaves you feeling starved before lunch. This results in decreased productivity and mid-morning hunger that might lead to you reaching for other low-nutrient food options to satisfy those hunger pangs.
Every pouch of HOLOS contains 20g of protein, 12g of fibre, 15 vitamins and minerals, 2 g of omega-3 and 1 billion CFU probiotics. With this combination of protein, complex carbs and healthy fats, it makes our breakfast one that will effortlessly help you kick those cravings while staying focused and productive.
"This minute-ready breakfast was literally designed to make you feel full, whole and completely satisfied."
- Jenni, registered holistic nutritionist
3. Your morning routine will become easier
You're busy. You don't have enough time each morning to cook a complete, nutritionally balanced breakfast, but quick meal options are usually over-rated (they're either not very healthy, or not very tasty).
HOLOS is your solution! All you need is 30 seconds in the evening to prepare it, and by morning your fully activated breakfast jar is ready to eat or bring on the go.
"HOLOS has already become part of my daily routine. They've made it so easy and affordable for me to have a healthy, energy-dense breakfast that powers me through the day."
- Mike, entrepreneur
4. It helps set a positive tone for your day (and your life)
The food we put into our bodies affects more than our physical health, it also has great impact on our mental health. While satisfying a sugar craving by munching on candy or downing a sweet drink might feel good in the short term, long term mental health and happiness is, at least in part, achieved through filling ourselves with nutritious whole foods.
It's with this in mind that we crafted HOLOS; a plant-based breakfast made with whole organic ingredients and superfoods including gluten-free whole grains, chia seeds, raw sunflower seeds, Goji berries, white mulberries, and maca. HOLOS is low in sugar (only 8 grams per serving of 90 grams and derived primarily from fruit) and contains prebiotic and probiotics which is why starting the morning with our super breakfast helps set the tone for a healthy, happy day to come.
"With HOLOS, I found exactly what I'm looking for in order for my two daughters to grow healthy: a meal prepared with healthy foods, real organic ingredients and made in Canada, so a local product that meets my criteria."
- Charles
5. It will stop you from compromising great taste for good health
Many people consider healthy eating a chore—one that forces unflavourful, sometimes even unpalatable, food onto them. This doesn't have to be (and shouldn't be) the case though! There are so many delicious and nutritious foods to choose from; foods that won't require comprising your desire for great taste with your pursuit of great health.
HOLOS is an example of one such food. Our super breakfast is a creamy, crunchy muesli that's refreshing like a parfait. With four flavours and tons of recipes to choose from, the end result is a delicious meal that's also good for you.
Mix and match these four delicious flavours by building a personalized box:
Vanilla: traditional and creamy
Cocoa: energizing and uplifting
Maple + Almonds: sweet and earthy
Chai: balancing and flavourful
---
"If you notice a spike in sales in Western Canada that will be because I will be telling everyone how delicious HOLOS is. I also love the cute glass jar."
- Nicky M.
Bonus
HOLOS is a hand-crafted breakfast by a proudly Canadian company. With suppliers that are based in Canada and sourcing plant-based, organic ingredients from all over the world, HOLOS is mission driven and has your health at heart.
Ready to #liveholos? Start building your HOLOS box today, and don't forget to share your experience by tagging us @liveholos.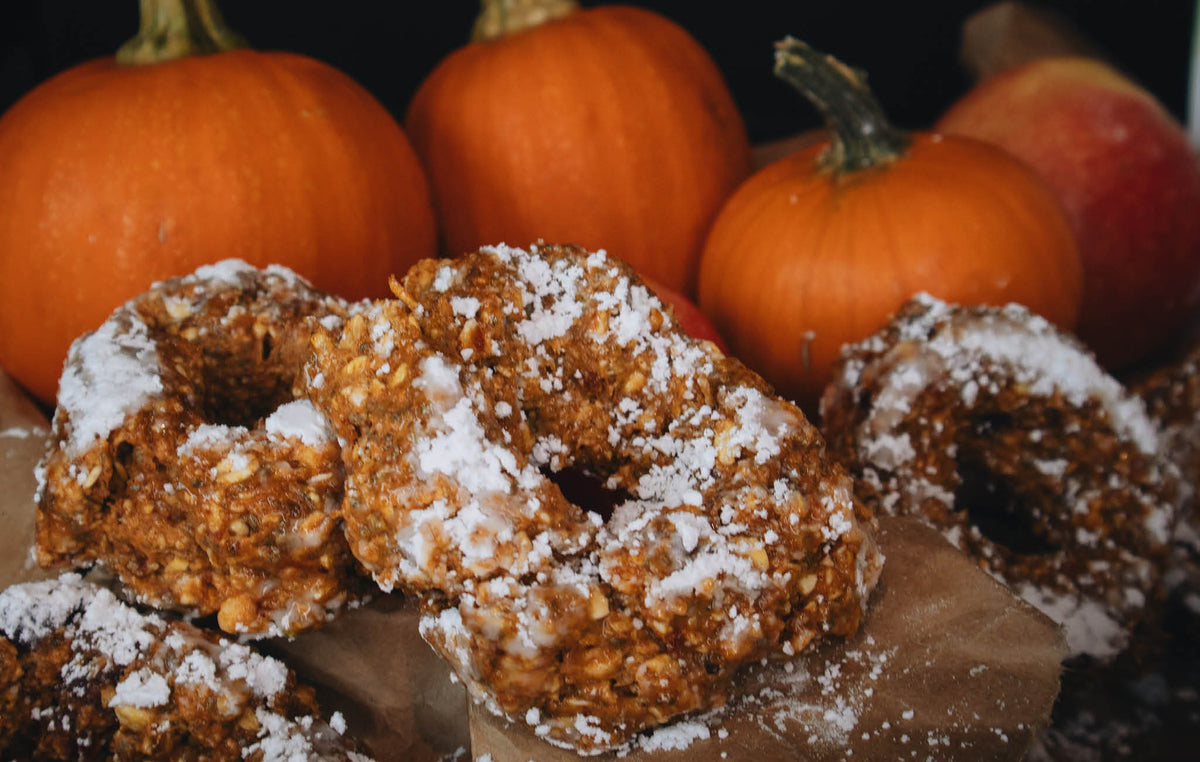 Pumpkin Spice No-Bake Protein Donuts Recipe
In honour of National Pumpkin Spice Day, we're celebrating with a delicious and cozy recipe featuring our beloved Apple + Cinnamon overnight muesli! These no-bake donuts are not only an explosion o...
Read more
All articles