The first 100% HOLOS docu-film: it's been five months in the making and it's finally time to share a new kind of HOLOS treat, something sweet for the eyes and substance for the soul.
In the midst of a summer riddled with uncertainty, Jean-François (Jeff) Cauchon, one of Canada's top ultra runners' attempts to set a new world record. Jeff's grounded resilience fuels his epic ambitions to break the current record for Greatest Elevation Gain on Foot in 24 Hours.
---
In this Short Docu-Film, we follow Jeff's mighty efforts and unveil the events leading up to his world record challenge day and disclose the cascading events that proceed. Physically and mentally strong, Jeff's actions reveal his level headed approach to a slightly insane objective. answers from the woods exposes the refined preparation, desired mental state, and established coping mechanisms a person of this athletic calibre must hold. Persistence, pain, progress - the ultra runners' addiction is the sweaty sweet reward of shattering any type of record - this is a rare opportunity to see the never-ending trail that is inside the mind of an ultra runner.
The whole HOLOS team is very passionate about filmmaking, especially our co-founder Samuel T. Scofy who directed and produced this film. He shares:
Photos: Alexis Marin
Photos: Alexis Marin
CREDITS
Starring Jean-François Cauchon, Elisabeth Cauchon & family
Directed & produced by Samuel T. Scofy
Cinematography by Antoine Caron
Edited by Louis Chevalier-Dagenais
Original score composed by Samuel Labrecque
Original score produced by Samuel T. Scofy
Sound design & mix by Victor Hardy Jeghers
Colouring by Messingwithue
Medical illustration by Travis Vermilye
Motion design by Lyon & Lyon
Additional footage by:

Zac Turgeon
Charles Sansregret
Marianne Hogan
Alexis Malin (Drone)
Vincent Champagne

Wordmark & artwork by Studio Reko
Copy by Samuel T. Scofy, Abby Cooper & Ariane Tisseur.
Know what else we're passionate about?! We're also passionate about YOU and what you do. Our product is about mindful nutrition so that YOU can be set up to live your best life. The idea behind this first of many short docu-films is to showcase the curious and ambitious humans that insure us - people just like YOU.
Stay hungry for life.
Learn more about HOLOS Super Breakfast.
---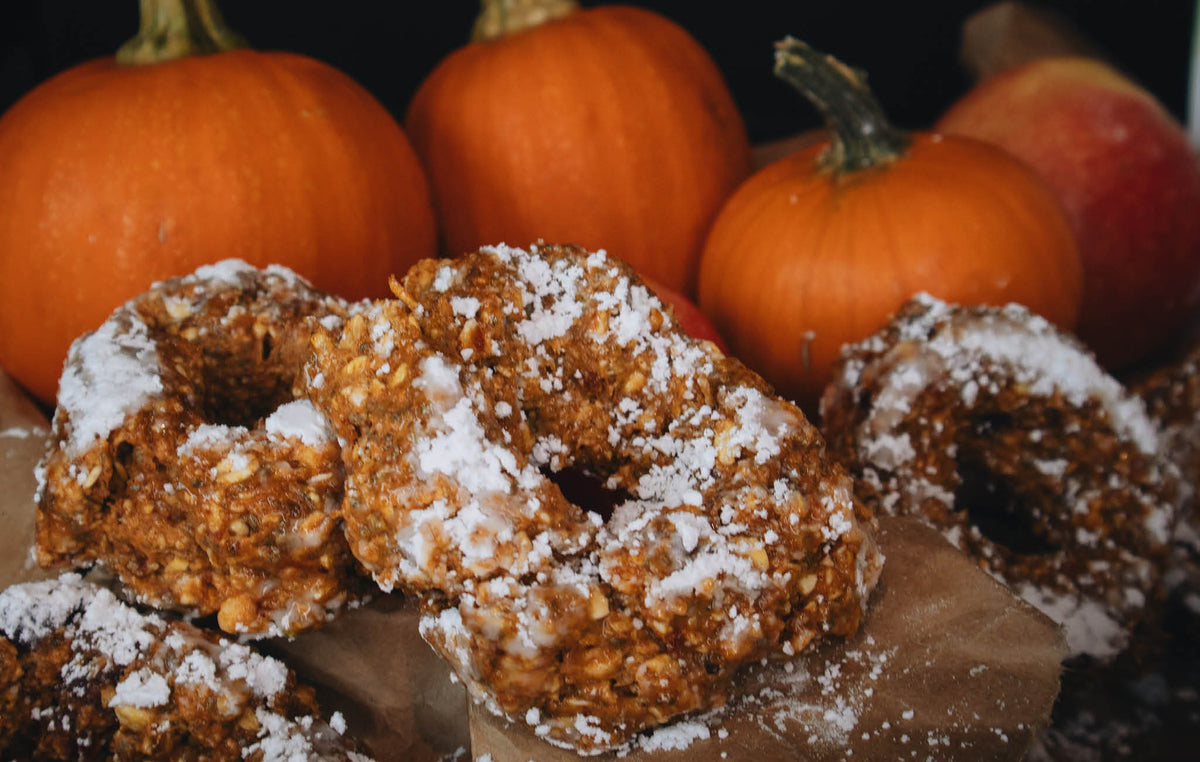 Pumpkin Spice No-Bake Protein Donuts Recipe
In honour of National Pumpkin Spice Day, we're celebrating with a delicious and cozy recipe featuring our beloved Apple + Cinnamon overnight muesli! These no-bake donuts are not only an explosion o...
Read more
All articles