A recipe with Meesh Cole ft. Wild Berries compote, garden fresh mint and edible flowers
This recipe was inspired by Vancouver Islands' abundance of wild berries: huckleberries, salmonberries, thimbleberries, blackberries, etc. The list goes on, and we humans are almost as happy as our bear neighbours. I picked fresh and juicy huckleberries and salmonberries for this recipe and used blueberries, mint and edible flowers from my home garden. No need to be sad if you're not living on the island and don't have all of these in your backyard, you can also find these ingredients at your local supermarket or specialty store.
Cocoa HOLOS ft. Wild Berries compote, garden fresh mint and edible flowers
Cooking time: 20 minutes
Prep time: 8 hours + 5 minutes
Makes: 1 serving
INGREDIENTS
1 cup wild berries or any of your favourite berries! I used huckleberries, salmonberries and blueberries.
½ medium-sized navel orange, juiced
1 pouch of Cocoa HOLOS
200ml dairy-free milk (I used oat milk)
1-2 fresh mint leaves
A few edible flowers, petals only. Examples include nasturtiums, marigolds, calendula, dianthus and roses.*
*Please note, if you are picking wildflowers make sure they are safe to eat and you are picking in a clean area.
METHOD
Wild berries compote: Makes: ½ cup – this will differ depending on the type of berries you are using.
Pick through the berries to make sure there are no bugs, leaves or dirt visible. You can give them a light rinse, just make sure to strain them well. If you use berries from the supermarket, you can also give them a rinse :)
Place the berries and orange juice in a small saucepan. Turn the heat to medium-high, stirring often. Once the berries begin to heat up and bubble, reduce the heat to medium-low and let simmer for 10-15 minutes.
Around 10 minutes, using a spoon, mash the berries in the pan a bit.
Once you are happy with the texture of your compote (I like mine to have a few full berries remaining), remove from the heat and set aside to fully cool.
You can store the wild berries compote in a mason jar in the fridge for up to 1 week or in the freezer for 1 month.
Assemble your creation
Combine a single pack of cocoa HOLOS with 200ml of dairy-free milk, give it a good stir and place it in the fridge to sit overnight.
The next morning give your HOLOS another good stir and add 2 tbsp wild berries compote on top. Using your fingers, rip the mint leaves into small pieces and spread on top, finishing with edible flower petals.
Enjoy the nature-inspired refreshing twist on your HOLOS :).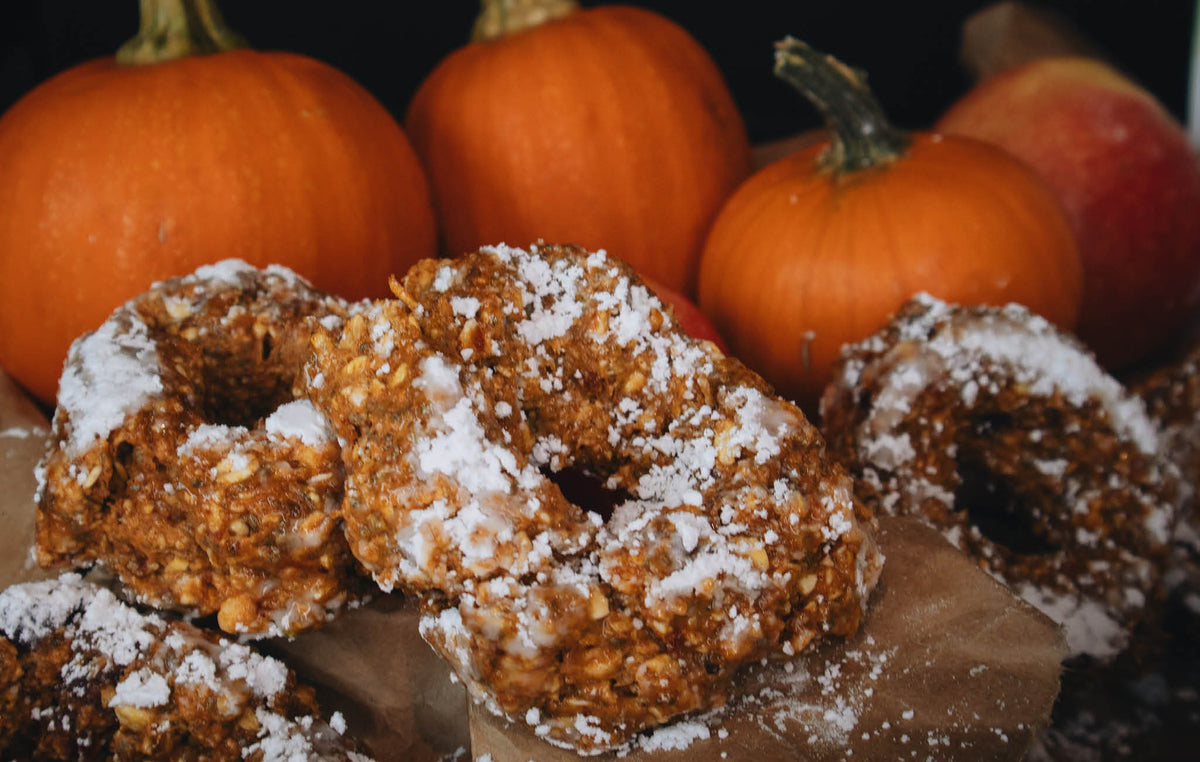 Pumpkin Spice No-Bake Protein Donuts Recipe
In honour of National Pumpkin Spice Day, we're celebrating with a delicious and cozy recipe featuring our beloved Apple + Cinnamon overnight muesli! These no-bake donuts are not only an explosion o...
Read more
All articles