Move over banana bread there's a new kid in town! Carrot and Chai are like a match made in heaven - the spicy chai makes these muffins sing. They were gobbled up very quickly and another batch was made immediately because they are just that good. Carrots themselves can be quite sweet so these muffins are almost entirely refined sugar-free. If you are watching your sugar, omit the sugar and add more bananas. They will still taste amazing!
INGREDIENTS: yields 12 muffins
WET
1 egg of choice
1 cup mashed banana (approx 2 medium bananas)
2 tsp vanilla
1/4 cup maple syrup
/1/4 cup coconut sugar (or brown sugar)
1/4 cup +2 tbsp olive oil
1 tsp cinnamon
1 1/2 cup grated carrot (approx 1 large carrot)
DRY
1 pack Chai HOLOS
3/4 cup almond flour
1 cup all-purpose flour
1 tsp baking powder
1 tsp baking soda
1/2 tsp sea salt
*1/2 cup chopped walnuts for topping

METHOD
Preheat the oven to 350.
Line or grease muffin tin.
In a medium-sized bowl mash banana add in egg, vanilla, maple syrup, sugar, olive oil and cinnamon. Whisk vigorously.
Add in grated carrot and stir to combine. Allow the wet mixture to sit. The carrots will soften slightly and release water which will add moisture to your muffins.
In a separate bowl whisk all dry ingredients together.
Add dry to wet folding the mixture until no dry remains.
Use an ice cream scoop or large soup spoon to scoop batter into muffin liners.
Place in a preheated oven and bake for 20-25 minutes until a toothpick comes out clean.
Allow cooling for 10 minutes in the tin before removing. Can be eaten right away. Store remaining on the counter uncovered or freeze for later.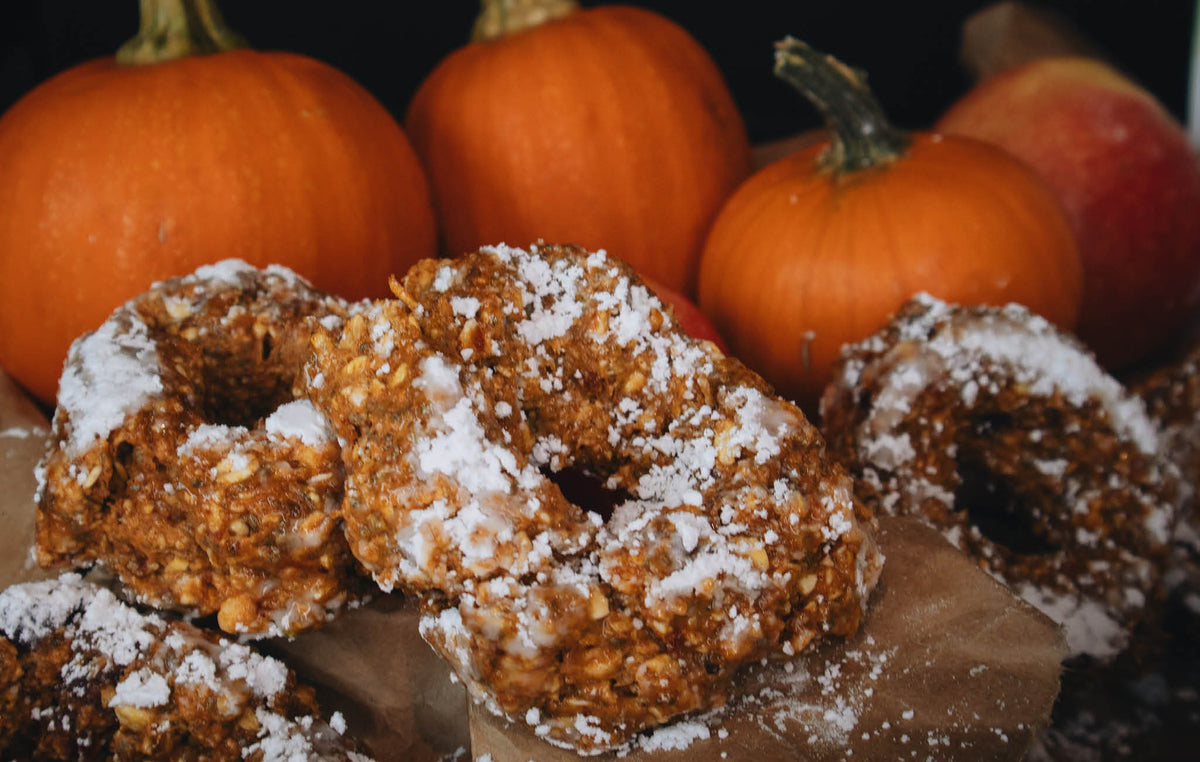 Pumpkin Spice No-Bake Protein Donuts Recipe
In honour of National Pumpkin Spice Day, we're celebrating with a delicious and cozy recipe featuring our beloved Apple + Cinnamon overnight muesli! These no-bake donuts are not only an explosion o...
Read more
All articles