Yes, you read that right! Churros made with HOLOS! We aim to deliver easy straight-forward recipes that you can make from home - bet you've never heard that about churros before. So fun and a perfect treat with the same health benefits as your favourite muesli!
INGREDIENTS: yields 10-12 churros
1 pack Cocoa HOLOS
3/4 cup flour
1/4 cup coconut sugar or white sugar
2 tsp baking powder
1/2 tsp cinnamon
1/4 tsp salt
3/4 cup milk of choice
2 1/2 tbsp canola or olive or melted coconut oil
Canola Oil - approx 2 cups for frying
1/4 cup coconut sugar
1 tsp cinnamon

METHOD
Empty pack of muesli into a blender and blend until flour-like consistency. Transfer to a mixing bowl.
Add in remaining dry ingredients and whisk to combine.
In a separate bowl mix wet ingredients.
Add wet to dry. If too dry, add a little more milk.
Transfer to a piping bag with a large star nozzle if using. No piping bag? No problem. These can be turned into drop dumplings by
scooping batter into the hot oil.
Pour 2 inches of canola oil into a heavy bottom pot - my go-to is 7" in diameter and 4" tall. Heat over medium-high heat. Test oil by dropping in tsp of batter. If it crisps up right away, your oil is ready.
Carefully pipe 4 inches of batter into the hot oil or drop for dumplings!
These cook fast, 2 minutes at most.
Transfer to a bowl with coconut sugar and cinnamon. Toss to coat and enjoy!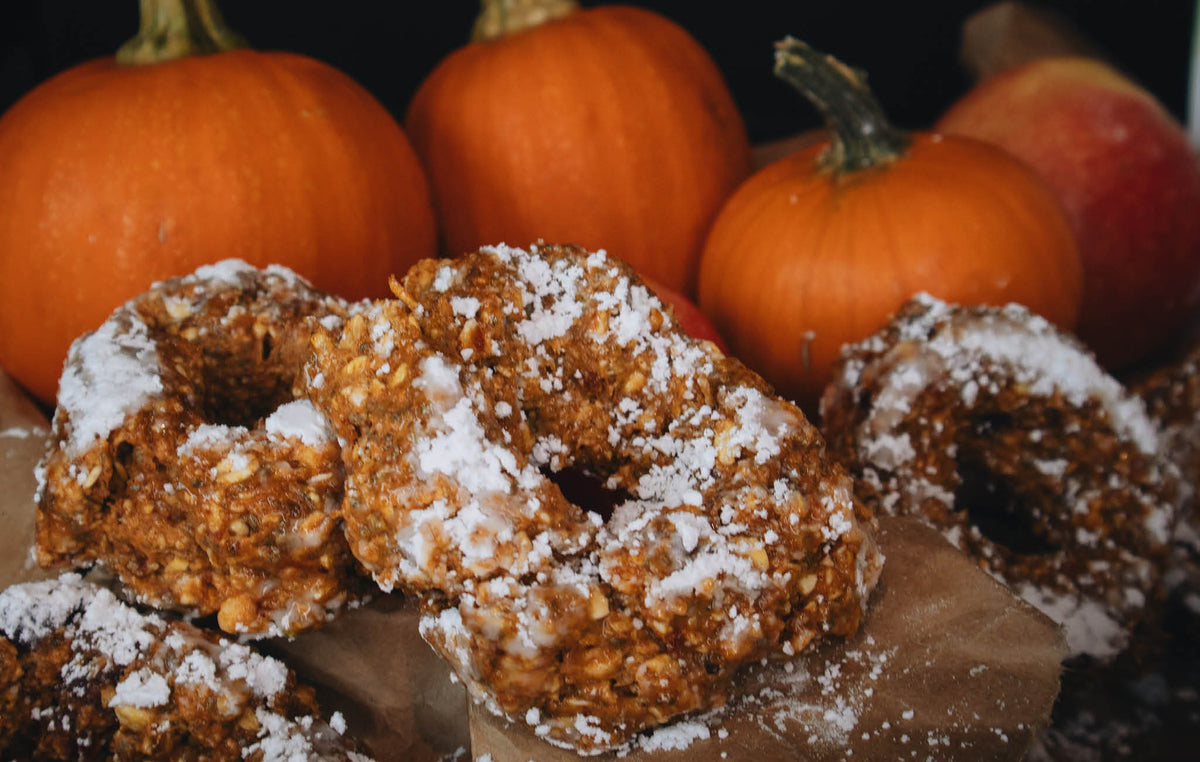 Pumpkin Spice No-Bake Protein Donuts Recipe
In honour of National Pumpkin Spice Day, we're celebrating with a delicious and cozy recipe featuring our beloved Apple + Cinnamon overnight muesli! These no-bake donuts are not only an explosion o...
Read more
All articles