This simple recipe has just the right amount of sweetness and uses simple pantry ingredients you probably have on hand! It comes together in no time and is so moist you'd swear it was pudding. Our HOLOS Apple + Cinnamon gets to shine as the MAIN ingredient but you could make this with ANY of the HOLOS flavours. Which one will you choose?
INGREDIENTS

2 packs HOLOS Apple + Cinnamon
1 cup chopped dates
1 1/2 cup milk of choice (355ml)
1 tsp vanilla
1/3 cup coconut sugar or brown sugar
1/2 cup butter
1/2 cup flour
2 tsp baking powder
1/2 tsp baking soda
1 tsp cinnamon
1 tsp ginger
1/2 tsp nutmeg
1/2 tsp salt
METHOD
1. Grease an 8x8 baking dish and preheat the oven to 350°F.
2. Place dates, milk and vanilla in a small pot. Cook over medium heat for approximately 12 minutes stirring frequently.
3. Add in sugar and butter. Once butter and sugar is completely dissolved, remove from heat. Allow the mixture to cool slightly before adding to dry ingredients.
4. Place HOLOS apple + cinnamon muesli in a blender and pulse until you have a flour-like consistency. Add to a bowl with remaining dry ingredients and whisk to combine.
5. Add wet to dry and stir until completely combined. Scrape into the prepared baking pan. Smooth the surface of the batter with a spatula and place into the pre-heated oven.
6. Bake for 30 minutes or until a toothpick comes out clean. A few crumbs are ok. The cake will continue to cook while it cools.
7. Serve it warm with a big scoop of your favourite ice cream. We chose pralines and cream from the premium plant-based brand Honey's Ice Cream.
What a dream. 😍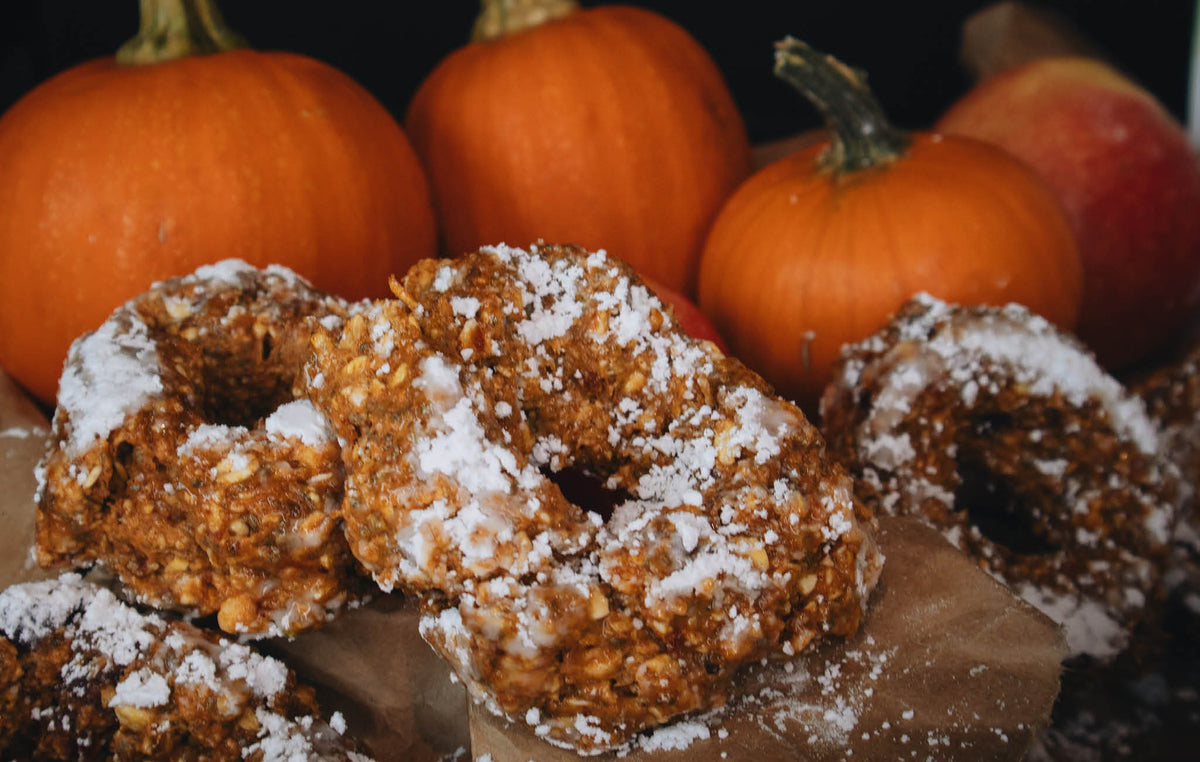 Pumpkin Spice No-Bake Protein Donuts Recipe
In honour of National Pumpkin Spice Day, we're celebrating with a delicious and cozy recipe featuring our beloved Apple + Cinnamon overnight muesli! These no-bake donuts are not only an explosion o...
Read more
All articles