Let's talk about recovery. More specifically, let's talk about how elite cyclocross and gravel cyclist, Maghalie Rochette, overcame exhaustion, recovered from illness and went on to race like a champion.

Maghalie always knew that she needed to rest more, but last summer and fall, exhaustion and illness hit her like a ton of bricks. After a period of general fatigue, her fragile state was compounded when she contracted COVID for the third time. She knew she needed to make a change, and fast.

In her own words, she says, "I fought for a while, but eventually realized that all my body needed was some rest."

So began her general "reset", where she took time off from not only training, but from work as well. She also made some adjustments to her cycling nutrition to ensure she gave her body the nutrients it needed while simplifying digestion. "For a while, I stopped eating gluten", Maghalie says, "I was already a fan of HOLOS, but I must admit that I developed an even greater appreciation for it during this period. I feel so good and light when I eat HOLOS, and the different flavours make breakfast exciting!"

Now fully-rested and recovered, Maghalie looks back on that period as a learning experience. After returning to training and competition, she realized that taking care of her body, eating a nutritious and holistic diet, and getting more rest made a big difference in her performance. Her philosophy is now "less is more", and the results speak for themselves.

Although she's recovered from her period of illness and exhaustion, HOLOS is still a part of Maghalie's routine, albeit in a slightly different way. "It's now the pre-race meal, the healthy breakfast during travel, and the muesli that accompanies me on my bike adventures or VR races!"
Inside the Diet of a Champion: Maghalie's Cycling Nutrition.
We sat down with Maghalie to get some insight into this champion's current diet, which features real food that provides all of her nutritional needs.
What's your food philosophy?
I eat everything. I eat healthy and whole foods that make me feel good, but I also don't deprive myself from a treat. I'm basically the champion of tiny snacks!
What is your morning routine like?
I always drink a glass of water upon waking up. But for breakfast, I'm a big fan of variety. My husband makes fresh sourdough bread, so we have that often with fruit and an egg. But as I said, I like to mix it up, so HOLOS is an integral part of my breakfast rotation which I have at least once weekly.

I do think that timing is quite important in terms of fueling for training. That's why I plan my sessions so that I go not long after breakfast (while I'm fueled up), and then plan to eat lunch as soon as I come back so I can start recovering as soon as possible.
Do you fuel during training?
I've learned over the years how important it is to fuel while ON the bike (or during any activity). I truly see the difference in my energy level on the bike, where I can truly push throughout the whole session and achieve better results than if I don't fuel properly. If I'm having an early training session or race, I like to eat HOLOS because it's good, makes me feel light, and it's quick to eat!
What do you normally eat for lunch?
It depends on my training session. If it was a long and intense session, I drink a recovery drink as soon as I get back home and drink it while I prepare lunch. If I have a recovery drink, then my lunch will often be a salad with some rice (or other carbs) in it, some eggs (or other protein), and plenty of veggies. If I don't have a recovery drink, then I might opt for a bit more substantial lunch like a sandwich. I love sandwiches.
What do your dinners typically look like?
As I said, I love eating food and cooking, so dinner is where we have the time to prepare more varied meals. If it's nice out, we love grilled veggies on the BBQ with some meat on the grill. We also love making homemade pizza. After dinner, I'll often have a little piece of dark chocolate. Sometimes if it was a REALLY big day of training, I'll be hungry again and will have yogurt with fruit and granola before bed.
Rest and Real Food for a Faster Recovery.
Maghalie Rochette's journey to recovery and optimal performance serves as a testament to the power of rest, proper nutrition, and a holistic approach to health. By taking the time to reset and make adjustments to her diet, Maghalie was able to overcome exhaustion and illness and come back stronger than ever.

Her food philosophy emphasizes the importance of eating whole foods while still not depriving herself, something that we at HOLOS can get behind. Her story serves as a reminder that real food is the key to cycling nutrition and recovery.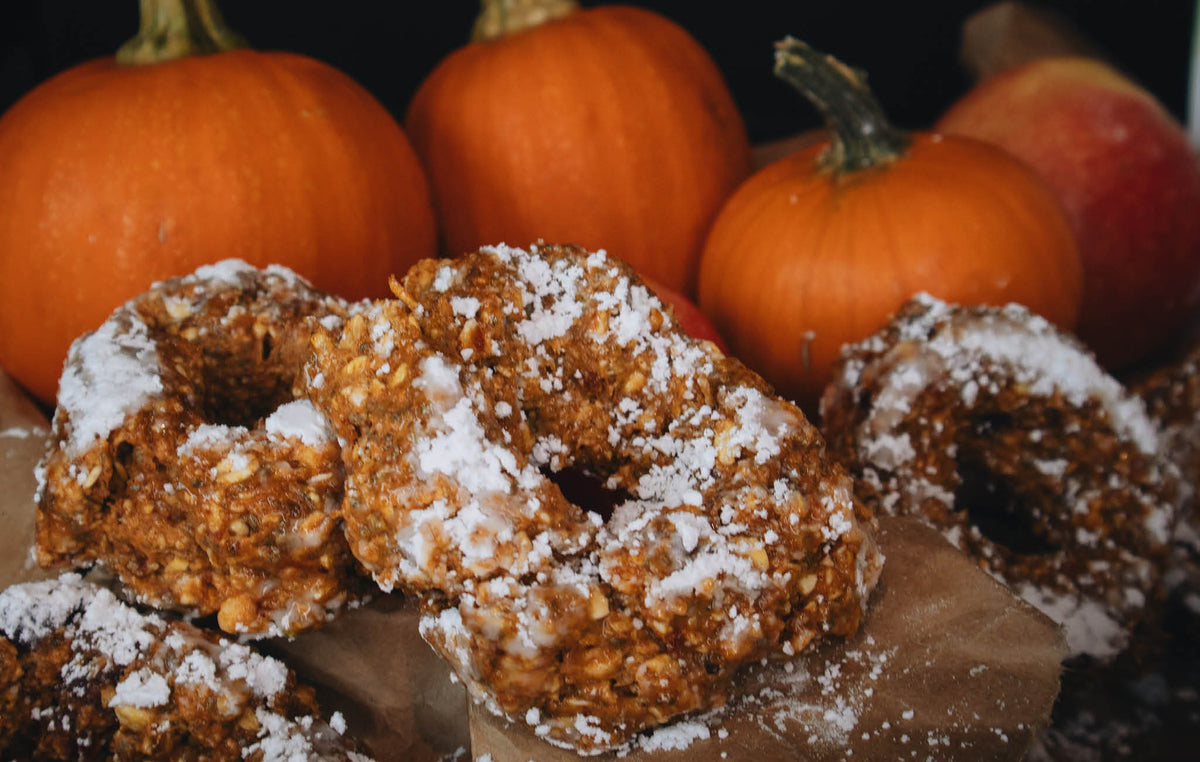 Pumpkin Spice No-Bake Protein Donuts Recipe
In honour of National Pumpkin Spice Day, we're celebrating with a delicious and cozy recipe featuring our beloved Apple + Cinnamon overnight muesli! These no-bake donuts are not only an explosion o...
Read more
All articles