We're transforming HOLOS into delicious and warming Pumpkin Pie Crumb Squares. With a sweet HOLOS base and topping, and a creamy pumpkin pie filling, these squares will be the only fall recipe that you'll ever need!
Recipe
Serves 12
Ingredients
Base:
1 pouch of Vanilla or Chai HOLOS
¼ cup gluten-free flour
½ tsp baking powder
½ tsp baking soda
2 Tbsp coconut sugar
½ cup milk of choice
1 egg
Pumpkin Filling:
1 14 oz. can pumpkin puree (100% pumpkin)
1/3 cup full-fat canned coconut milk
½ cup maple syrup
1 tsp vanilla extract
¼ tsp ground ginger
1/8 tsp ground cloves
1/5 tsp ground cinnamon
1.5 Tbsp arrowroot powder (or corn starch)
Crumble Topping:
1 pouch of HOLOS vanilla or chai
½ tsp ground cinnamon
2 Tbsp coconut sugar
1 Tbsp gluten-free flour
3 Tbsp grass-fed butter or ghee (vegan butter works for dairy-free version)
½ cup chopped pecans
Optional Topping: coconut whipped cream, coconut ice cream
Instructions
Preheat the oven to 350 degrees F. Line an 8x8 baking dish with parchment paper.
Assemble the base by mixing the HOLOS pack, flour, baking powder, baking soda and coconut sugar together until everything combined.
In a separate bowl whisk the egg and milk together. Combine the wet ingredients with the dry and mix until everything is incorporated.
Place mixture in your baking dish and cook for 15 minutes.
While that is baking assemble the filling by combining all of the filling ingredients together in a bowl and mixing together thoroughly.
Next, assemble the crumble ingredients by mixing everything together in a bowl until the butter has mixed into the dry ingredients and you get a crumble texture. If the butter is cold you may need to work this with your hands.
Once the base is cooked, remove from the oven and spread the pumpkin pie filling ingredients over the top of the base until it's evenly spread out.
Next, sprinkle the crumble topping over the pumpkin filling until it's evenly spread out and like a pie topping. The more it's spread out, the easier it is to cut.
Place in the oven and bake for an additional 45-50 minutes, until the pie filling has hardened a little bit.
Let cool and cut into 12 squares, serve with whipped cream or ice cream.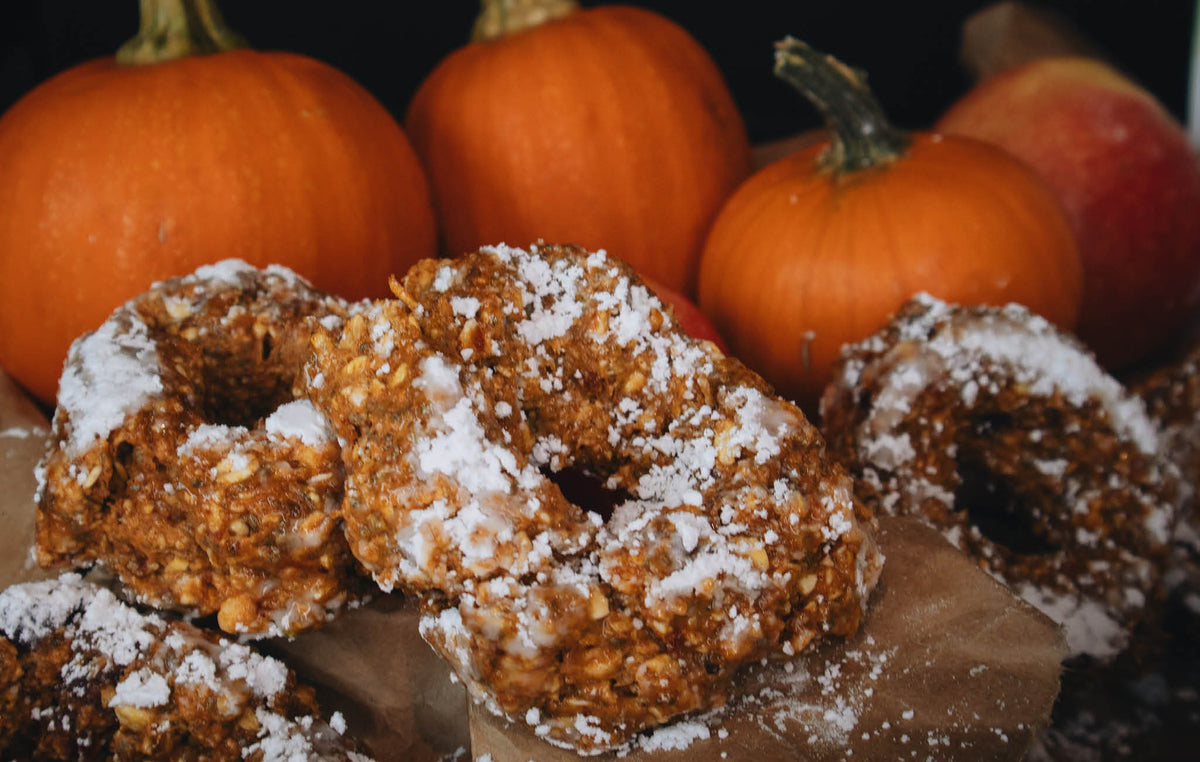 Pumpkin Spice No-Bake Protein Donuts Recipe
In honour of National Pumpkin Spice Day, we're celebrating with a delicious and cozy recipe featuring our beloved Apple + Cinnamon overnight muesli! These no-bake donuts are not only an explosion o...
Read more
All articles