This fall, The North Face athletes from all over the globe gathered at a Californian mountain lake for the TNF Global Athlete Summit. The basecamp was quickly decorated by dome tents of all colours to host a vast array of well seasoned adventurers hyped to spend some quality time in the great outdoors. In the middle of the desert, the temperature was close to 0°C. During these 5 days of camping the smoke from the bonfires was permanently floating in the dry air; the days were busy and sleep was always well deserved.
Before heading out on the trails, mountain biking or climbing rock faces, breakfast had to be nutritious, simple, but most of all TASTY - Anyone who has ever been camping can confirm that every meal is a highlight.
Next to steaming coffee pots, HOLOS, with its organic, plant-based protein breakfasts, is proud to have been one of the options available every morning. For a small Quebec company, it was a huge privilege to break bread with some of the world's greatest athletes. And especially to receive the The North Face seal of approval, a leader in the world of sports and outdoor activities.
Marc-Antoine Forand, who is part of the team as an official athlete for the second year in a row, enjoyed his breakfast of choice even being thousands of miles away from home. The man who is known for continually pushing his limits still can't believe he got to share his muesli with some of the biggest names in the industry.
''Wow, The North Face Global Athletes Summit, what a dream week that was!"
"A week connecting with the best mountain athletes in the world and exchanging on our past and future projects. These encounters will stay with me forever. Three years ago, if someone had told me that running would take me there, I wouldn't have believed it. Every morning, while the fire was still smoldering from the night before, I got to chat with my idols, my coffee in one hand and my HOLOS in the other. I was able to participate in workshops that will equip me outside of the mountain and the sport. Of course, my shoes were never far from reach and I explored the mountains for hours and hours, this time alongside people I never thought I'd run with. Before dark, we would come back to the camp and rekindle the fire while mingling with the 200 or so athletes. As night fell, we headed back to our respective tents, looking forward to rest and recharge for the next day's adventures.

Gratitude.

Believe in ourselves, but above all, believe in our wildest dreams.

The year 2022 was magnificent and once again, extremely rewarding. 2023 I am ready for you.''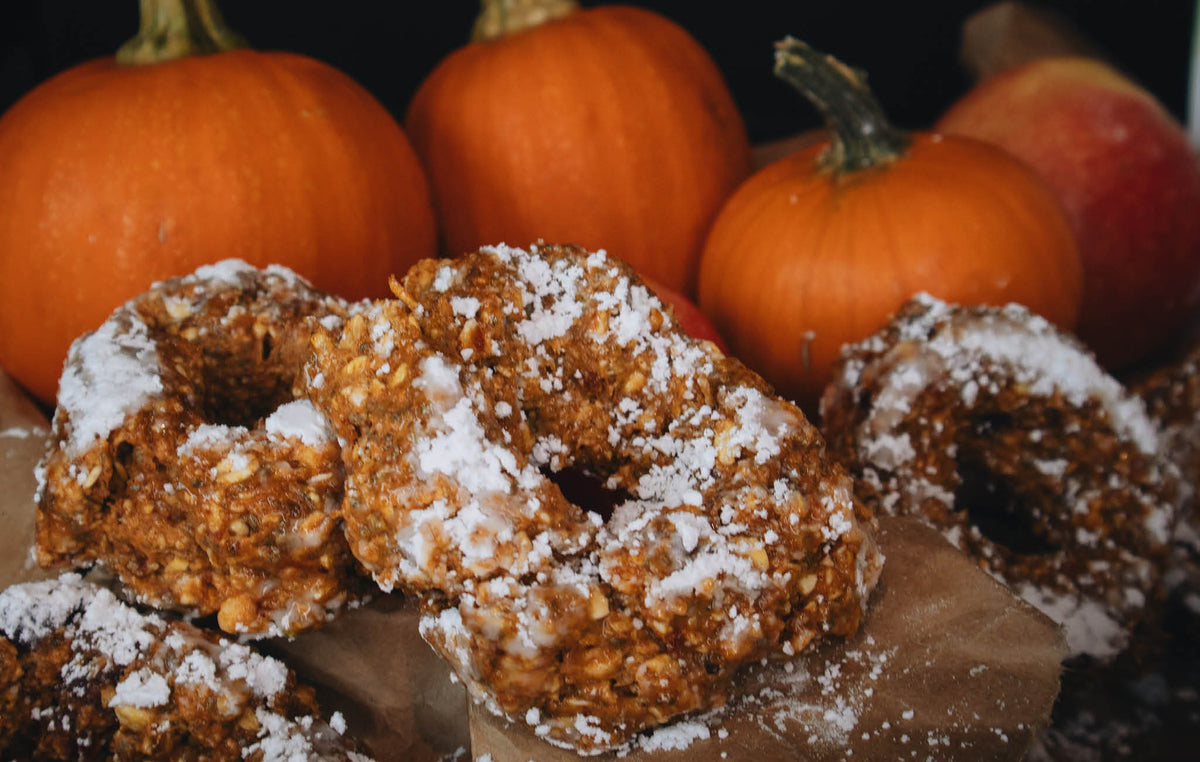 Pumpkin Spice No-Bake Protein Donuts Recipe
In honour of National Pumpkin Spice Day, we're celebrating with a delicious and cozy recipe featuring our beloved Apple + Cinnamon overnight muesli! These no-bake donuts are not only an explosion o...
Read more
All articles