This recipe is part of a series of 5 amazing new ways to eat HOLOS this summer.
---
I love pancakes. I make them pretty much every weekend. HOLOS Chai was the perfect addition to my blueberry sauce coupled with adding fibre, probiotics and superfoods = Blueberry Chai Pancakes! Blueberries and summer go hand in hand making this recipe a delicious weekend treat.
A wholesome spicy stack with the sweetness of freshly picked blueberries. These pancakes are packed with protein with just the right balance of sweet and spice.
Ingredients
1 HOLOS Chai (any flavour works)
1 cup all-purpose flour
½ cup oat flour (*if you don't have oat flour, simply fine grind ½ cup of oats)
1 Tbsp. baking powder
1/2 tsp ground ginger
¼ tsp fine sea salt
1 ½ cup milk of choice
½ cup water
1 medium egg (or vegan flax alternative)
3 Tbsp. coconut oil or butter (melted)
½ cup fresh or frozen blueberries
Sauce (optional)
1 cup frozen blueberries
1/4 tsp ground ginger
1 Tbsp. maple syrup
1 Tbsp. chia seeds
Steps
For the pancakes:
In a large mixing bowl add dry ingredients and whisk.
Add the wet one at a time, stirring while you go until the dry ingredients are incorporated and everything is thoroughly mixed.
Preheat large nonstick pan and spray with nonstick cooking spray.
Use ladle to add batter to pan. Place approximately 5 fresh blueberries on each pancake.
Once bubbles start to form, flip and cook for another minute or two. Repeat until all the batter is gone.
Drizzle the chia ginger blueberry sauce on top of your freshly made pancakes (optional).
For the sauce (optional):
In small sauce pan add maple syrup and blueberries and bring to a simmer.
Allow to simmer for several minutes as berries start to thaw.
Once berries are soft, add in ground ginger and stir.
Finally, add in chia seeds and stir to combine.
Remove from heat and set aside to thicken.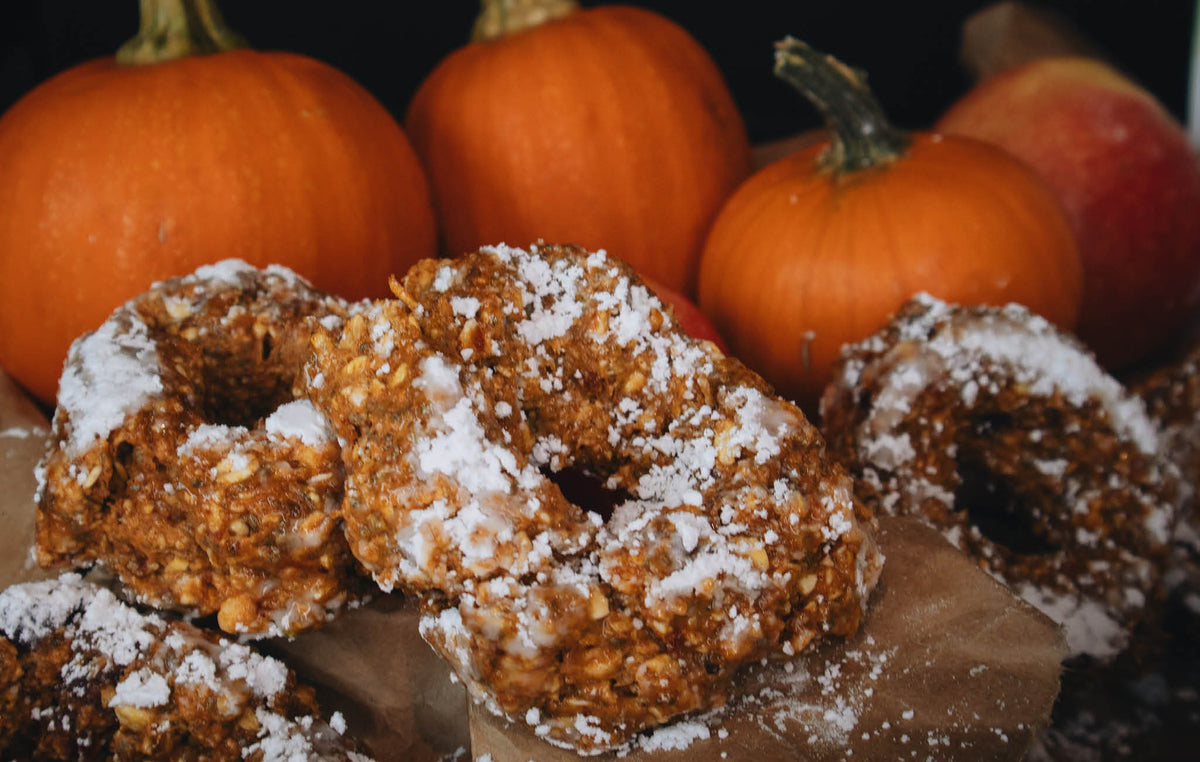 Pumpkin Spice No-Bake Protein Donuts Recipe
In honour of National Pumpkin Spice Day, we're celebrating with a delicious and cozy recipe featuring our beloved Apple + Cinnamon overnight muesli! These no-bake donuts are not only an explosion o...
Read more
All articles