Hi all! Teri here, recipe developer, food photographer & yoga teacher. I was recently asked by the HOLOS team to come up with 5 completely new ways for you to consume your HOLOS this summer. We discussed that the recipes needed to be delicious, easy-to-make, summer ingredient focused and of course healthy & nutritious — all highlighting the multi-functionality of HOLOS.
HOLOS has 4 different amazing flavours which gave me SO MANY different ideas. I probably could have kept creating but I had to stay focused. :) I am beyond happy with the results and hope you'll enjoy them as much as I did! Let these recipes fuel you all summer long for your balcony Zoom meetings, long weekend hikes, morning runs, chill night rides or all your other demanding summer pursuits!
Without further ado, here are 5 amazing news ways to eat your HOLOS this summer:
1. HOLOS Blueberry Chai Pancakes
I love pancakes. I make them pretty much every weekend. HOLOS Chai was the perfect addition to my blueberry sauce coupled with adding fibre, probiotics and superfoods = Blueberry Chai Pancakes! Blueberries and summer go hand in hand making this recipe a delicious weekend treat. Access full recipe
2. HOLOS Trail Mix Bar
HOLOS fans are an active bunch so I thought of how to make a Trail Mix Granola Bar for those pre or post workouts. I used the HOLOS Maple Peanut for these bars and let me tell you, I did NOT mind taste testing these. I got the recipe just right for you. Such a healthy treat! Access full recipe
3. HOLOS Cocoa Banana Bread
Doing some hiking or road tripping this summer? Summer 2020 is def all about the road trip —thanks Covid ;), which got me thinking of how to turn the quarantine banana bread into a healthy delicious Trail Bread for convenient snacking. I created the Cocoa HOLOS Banana Trail Bread and it is delicious. Happy snacking, hiking and road tripping! Access full recipe
4. HOLOS Breakfast Cookies
Who doesn't love cookies? How about cookies for BREAKFAST? Yeah, me too. These cookies are like muesli in cookie form. Only a few pantry ingredients that everyone has on hand a bam, cookies for breakfast. Chai HOLOS was the perfect flavour for these wholesome cookies. Chai is a year round favourite spice. Access full recipe
5. HOLOS Strawberry Vanilla Overnight Classic
Finally we have the HOLOS overnight classic and I could not think of a more summer pairing than vanilla and strawberry. Strawberries and cream anyone? YUM! I created a super quick and easy homemade JAM made with chia seeds so not only is this classic delicious it is also refined sugar free and nutritious! Happy strawberry picking! Access full recipe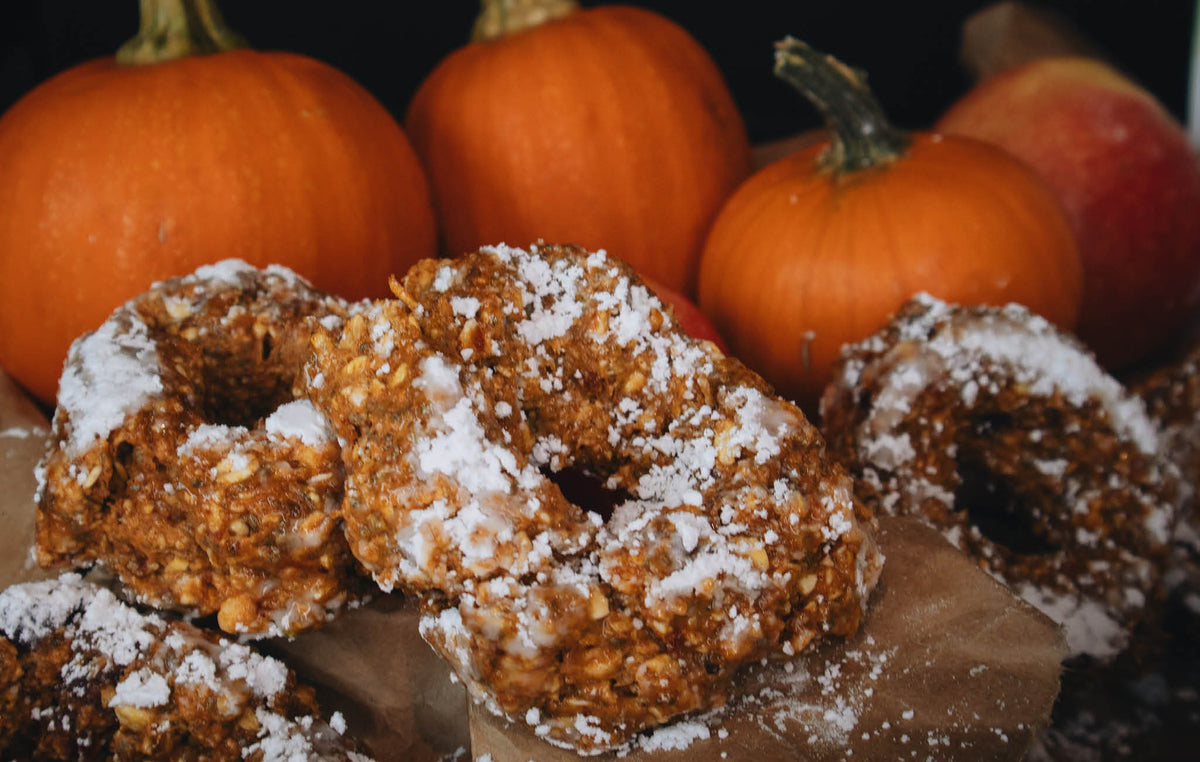 Pumpkin Spice No-Bake Protein Donuts Recipe
In honour of National Pumpkin Spice Day, we're celebrating with a delicious and cozy recipe featuring our beloved Apple + Cinnamon overnight muesli! These no-bake donuts are not only an explosion o...
Read more
All articles