Hello, again friends, Teri here! I'm a recipe developer, food photographer and yoga teacher. Maybe we met last summer when I released Five Amazing New Ways to Eat HOLOS This Summer. I am happy to say I'm back with five more delicious ways to eat your favourite Breakfast Muesli - this time in winter! I have created five simple, straight-forward, user-friendly recipes that highlight the four HOLOS flavours and the nutrition of these already fabulous mueslis. My mission for the winter edition was to let you have a little fun in the kitchen too - cooking doesn't need to be complicated to be creative!
The main ingredient in all these recipes? HOLOS of course! I let the flavours lead the way. So how do muffins, a breakfast bake, churros, waffles and a spin on the classic sound?
Roll up your sleeves, let's get cooking!
1. HOLOS Chunky Monkey Vanilla Muesli
This recipe is about having fun and elevating our already tasty muesli. With just a little bit of planning, this delicious, nutritious and protein-packed classic comes together in no time. The chocolate drizzle is optional, as it's not "needed" but if you're feeling jazzy, melt some chocolate and have fun drizzling it over the jars. Read the recipe
2. HOLOS Maple Peanut Breakfast Bake
There is nothing cozier than freshly baked oats. It is warm and comforting on a cold winter morning. This recipe is easily made vegan and gluten-free if that's your jam. The ingredients are simple pantry items that most of us have on hand. The chocolate chips can be omitted but during these challenging times, I say add more! Read the recipe
3. HOLOS Vanilla Waffles
These waffles are packed full of protein, simple to execute and come together quickly. They can be made fully vegan or not! Simply swap out the egg for a flax egg and use nut or soy milk instead of cow or goat milk. I used gluten-free flour to make this recipe but regular flour would work well too. Top these waffles with a drizzle of nut butter and maybe granola to up the protein punch - so good after a workout! Read the recipe
4. HOLOS Carrot Chai Muffins
Move over banana bread there's a new kid in town! Carrot and Chia are like a match made in heaven. The spicy chai makes these muffins sing. They were gobbled up very quickly and another batch was made immediately because they are just that good. Carrots themselves can be quite sweet so these muffins are almost entirely refined sugar-free. If you are watching your sugar, omit the sugar and add more bananas. They will still taste amazing! Read the recipe
5. HOLOS Cocoa Churros
Yes, you read that right! Churros made with HOLOS! We aim to deliver easy straight-forward recipes that you can make from home - bet you've never heard that about churros before. So fun and a perfect treat with the same health benefits as your favourite muesli! Read the recipe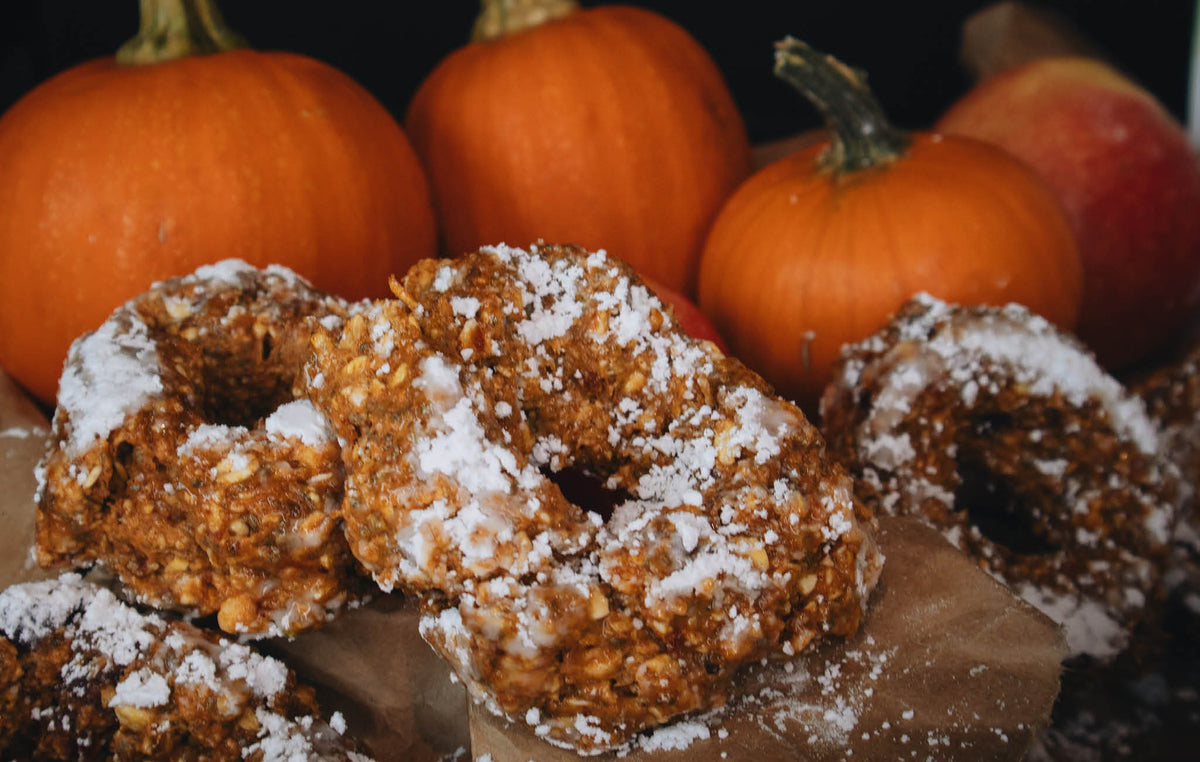 Pumpkin Spice No-Bake Protein Donuts Recipe
In honour of National Pumpkin Spice Day, we're celebrating with a delicious and cozy recipe featuring our beloved Apple + Cinnamon overnight muesli! These no-bake donuts are not only an explosion o...
Read more
All articles